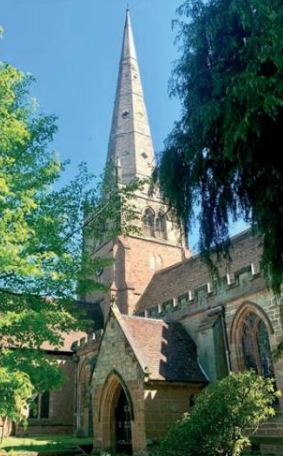 As winter closes in and Christmas approaches a number of churches will be able to offer a welcome to their restricted congregations that will be somewhat warmer, in the literal sense as well as the metaphorical, than they could last Christmas – thanks to new or upgraded heating systems installed by Stoke-on-Trent specialists Mellor and Mottram.
Over the spring and summer, we reported on projects ongoing at two Grade Two-listed churches near the company's base in Staffordshire – both of which trace their origins back to medieval times. St Mary's in Grendon, Staffordshire, and St Bartholomew's in Penn, near Wolverhampton in Warwickshire, are now enjoying not only new-found warmth but also the savings in energy modern systems can produce. In these days of sudden energy price hikes, that can only be of benefit, not to mention the improvements in the churches' footprints.
The two join St Alphege's in Solihull, West Midlands (pictured) – a Grade One listed building, parts of which have stood on the High Street site for over 800 years – and an altogether more modern church, the Roman Catholic Church of the Assumption of the Virgin Mary in Beeston, Nottinghamshire. That church dates from 1954 and is built in the Romanesque style.
Meanwhile, the Roman Catholic retreat at Alton Castle continues to occupy Mellor and Mottram with its ongoing programme of improvements.
The New Year will no doubt bring more precious gems into the portfolio of Stuart Mottram and his team.
For further information call 0800 644 6240 or visit www.mellorandmottram.com