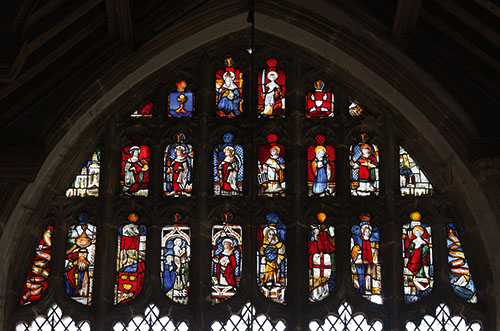 St Clement's Church is at the centre of Outwell village in the Fens on the Norfolk-Cambridgeshire border. It has been described as a treasure-house of unique medieval sculptures and beautiful stained glass.
In the east elevation of the Lady Chapel, or Beaupré Chapel, is a large transom window with a large tracery of 24 lights containing highly-detailed and technicoloured stained glass representations of saints – both local and international – heraldry and decorative motifs.
They were installed sometime between 1515 and 1525, although it is thought that some lights have been repositioned within the window over time – perhaps after having been removed for protection during times of war. Despite a few losses of cohesive design work, amazingly they have survived intact for 500 years.
The hair colouring and drawing style suggests they were made by artists from the Netherlands. That is not uncommon for glass surviving from that era. Dutch engineers were drafted in to drain the Fenland around that time. Fellow artisans worked on many buildings, and other churches and chapels in East Anglia. Among them was none other than King's College Chapel, Cambridge.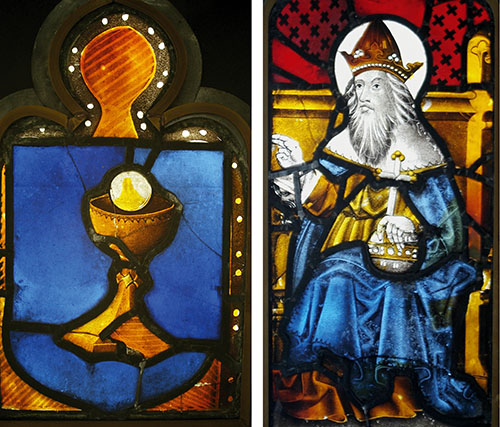 The glass is skilfully painted and very thin, making its survival even more astounding. There were some cracks and some heavy-handed repair work had been carried out. In January 2017 emergency repairs were undertaken by Susan McCarthy of specialist glass conservators Auravisions. Last year the company embarked upon a comprehensive repair effort.
The previous repairs were rectified, making them less noticeable by the use of specialist conservation resins and techniques.
However, the main consideration was environmentally-related corrosion, which had caused pitting of the glass surfaces. Left unchecked, that would continue until the glass became opaque or completely disintegrated.
The only way to halt that process was to fit them into an externally-protective, internally-ventilated system, generically known as isothermal glazing. It required their removal and fitting into metal frames, which were then secured onto the inside of the stone.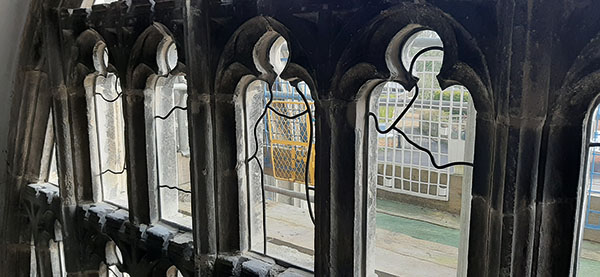 Additional plain glazing was fitted into the original glazing grooves, replacing the stained glass panels. The gap between the two layers is ventilated to the inside of the building in order to equalise the temperature on both sides of the ancient glass – thus eradicating condensation on its delicate surfaces. The new external plain glazing protects it from the ravages of the weather.
Susan McCarthy explained: "Conservation ethics require the least possible interference with the original material, and also respect for previous interventions. However, some interventions were replaced with more subtle methods, such as the removal of lumps of putty used to plug holes. Those had been added in situ; but having the panels on the bench, we were able to replace them with glass carefully selected and painted to match the original, or lead sections shaped to visually block the holes.
"Fortunately, some lights contained much of their original medieval lead; and although it would not have been able to withstand more weathering, due to it being set into a new protective system we were able to retain it.
"The project was several years in the planning, and the PCC and churchwarden worked long and hard to obtain the necessary funding for what was clearly a very worthy cause."
• To find out more about the specialist conservation work undertaken by Auravisions call 01799 584108, email This email address is being protected from spambots. You need JavaScript enabled to view it. or visit the website at www.auravisions.co.uk