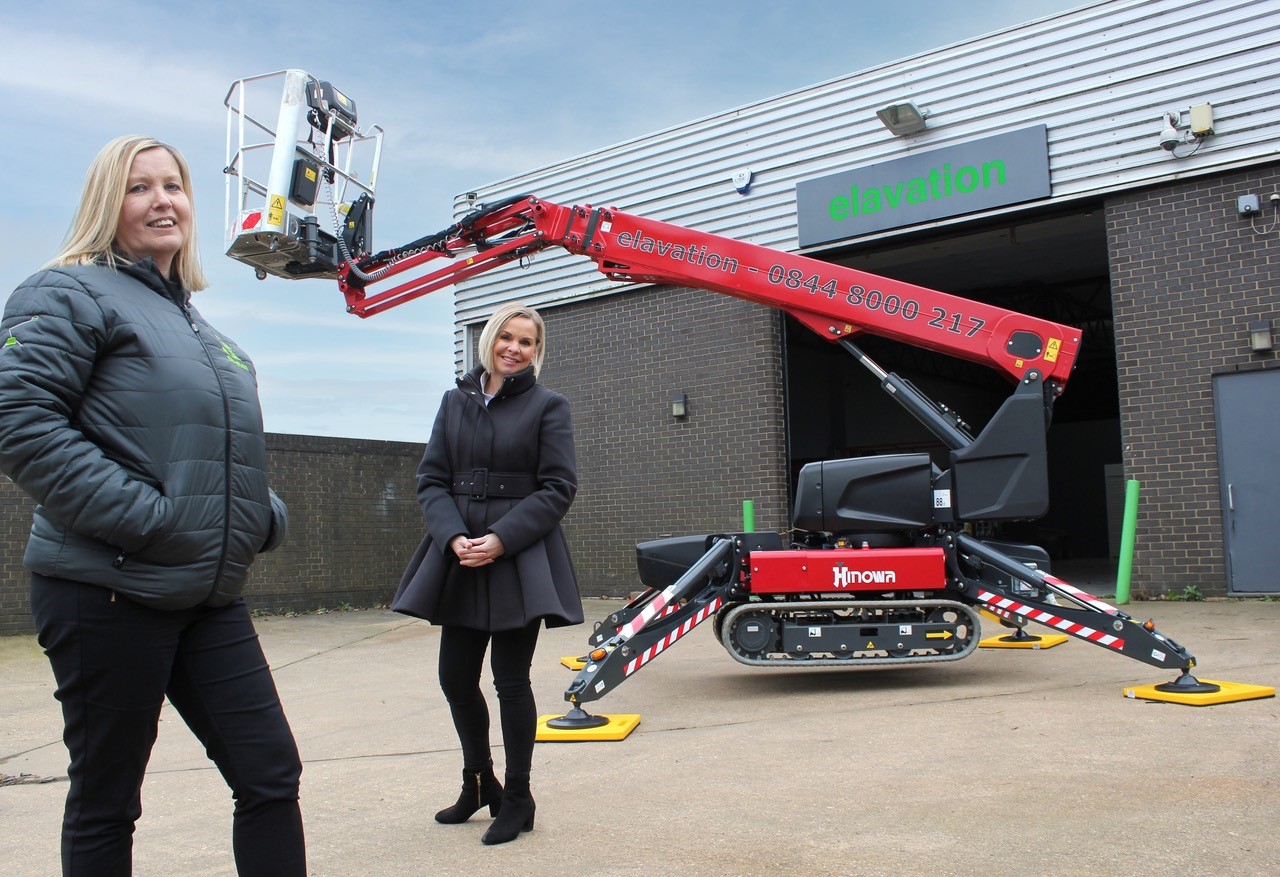 Access Platform Sales has supplied the first groundbreaking Hinowa TeleCrawler 13 in the UK to access rental company Elavation.
The Hinowa TeleCrawler 13 is the first tracked spider platform in the world to have all-electric drive.
Access Platform Sales (APS), Hinowa's UK and Ireland authorised distributor, delivered the eco-friendly platform to Elevation's HQ in Wolverton, Milton Keynes.
Elavation Specialist Machines Operations Manager Mandy McClements-John said: "The Hinowa TeleCrawler 13 is a superb and exciting spider platform.
"It's ultra-compact, with great new design features to assist operation in confined and challenging spaces, and its all-electric drive leads the way in terms of sustainability and low-carbon operation.
"As a business that wants to be at the forefront in terms of giving customers the latest and best options for working at height, Elavation is very pleased to be first to have a TeleCrawler 13 in the UK."
Elavation, a leader in the UK rental market for sustainable working at height, has taken the Hinowa TeleCrawler 13N, a version of the new platform that provides a particularly compact stabilisation area.
The platform has a maximum working height of 12.9m and a maximum outreach of 6.4m. It is designed for one-person operation with a unrestricted maximum lift capacity of 136kg.
This allows the Hinowa TeleCrawler 13N to operate within a stabilisation area of just 2.45m by 2.9m, equivalent to being set up in a parking space for a single car.
When stowed for tracking, with tracks retracted, the spider platform is just 748mm wide, so can be moved through a single doorway. As with other Hinowa platforms, it has compressed air and water supply to the basket.
The Hinowa TeleCrawler 13S has the same height and outreach performance, but with a larger stabilisation area (2.7m by 3.05m) and a larger unrestricted maximum basket capacity of 230kg.
APS Major Accounts Manager Linda Betts said: "We're very pleased the Elavation has seen the fantastic potential of the Hinowa TeleCrawler 13. It's certainly catching the attention of all who see it.
"Hinowa always strives to push the boundaries in terms of capability, sustainability and safety, and the TeleCrawler 13 is an example of that.
"I have no doubt its unique compactness will allow it to work at height in spaces not attempted before with other spider platforms."
The platform's electric drive motors are more efficient than hydraulic drive so allow the platform to be fitted with a smaller lithium battery, reducing its weight and contributing to its small size.
They also support longer battery life - the TeleCrawler 13 is designed to be operated for three days on one full charge - minimising its carbon footprint while providing reliable and long-lasting zero-emissions and low noise working.
By carrying much less hydraulic oil, the TeleCrawler 13 reduces the risk of pollution risks caused by spills and more effectively supports working at height in clean environments.
The platform has a one touch 'go home' function which automatically stows the machine ready for tracking. For the first time, it also has a new feature Hinowa calls 'go back'. This takes the basket back to a previously designated working at height position, supporting safety and productivity.
The basket can be quickly removed to help track the platform through narrow gaps or around corners. A smart additional feature is the ability to simply then flip up the basket forks to shorten the platform still further.
Mandy McClements-John at Elavation said: "This reduces the length of the platform by at least a further 300mm. That doesn't sound much, but it's likely to make a big difference when tracking in very restricted space, such as around corridors in buildings.
"It's very clever and shows Hinowa is listening to the challenges our customers face."
The Hinowa TeleCrawler 13 provides automatic parallel tracking for moving up and down the sides of buildings. Also, because if its electric traction motors, it is IP67 protection rated for operating over muddy or dusty ground.
Elavation has a strategy of seeking to offer clients the best options for electric, hybrid, and multi-fuel aerial platforms. It operates one of the largest fleets of hybrid booms in the UK.
Find out more about the Hinowa TeleCrawler 13 from APS: 01481 891251.
For further information visit www.accessplatforms.co.uk