The National Heritage Ironwork Group (NHIG) will be setting up and running a Heritage Blacksmith Bursary project, the first specialised training programme for Blacksmith Conservators thanks to a Heritage Lottery Fund (HLF)  grant awarded under its 'Skills for the Future' programme.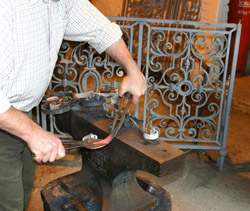 "NHIG has developed this project by working together with Historic Royal Palaces, a heritage employer with the need for these skills, and Hereford College of Technology (HCT) as a response to the need for the advanced training" said Chris Topp Chairman of NHIG.
"This Heritage Lottery Fund support will give NHIG the opportunity to bring together the skills of excellent blacksmithing craft practice and professional conservation practice to provide real and relevant work based training for those that preserve and protect our ironwork heritage. At Herefordshire College of Technology we have had a primary role in the training of the country's blacksmiths for over 60 years and we are delighted to be involved with this important project" said HCT senior tutor Adrian Legge.
Currently heritage ironwork, which is a specialist arm of our built heritage, is under-represented in both education and standards. NHIG will be starting from scratch, as it is a new model in a niche sector, to create a training course in the conservation and restoration of heritage wrought ironwork.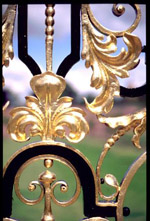 "There is extensive work to do on the Tijou Screens at Hampton Court Palace over a number of years and as we debate the appropriate repair strategies, we are keenly aware of the scarcity of craftspeople with the appropriate skills to carry out the work. We believe that this project will make a difference to us and to the heritage sector as a whole, by making those skills more widely available" said Adrian Phillips, Surveyor of the Fabric for Historic Royal Palaces.
These skills are important for the future as national schemes such as the 'CSCS Heritage Skills Card' are set to become obligatory across the heritage sector. At present smiths are excluded because of a lack of a suitable qualification against which they can be judged. This project will help towards initiating a system of education, evaluation and accreditation to address this.
NHIG's Heritage Blacksmith Bursaries project will offer practical skill based training to semi-skilled blacksmiths over the age of 19 years delivered in a workshop environment which will be enhanced by underpinning knowledge delivered by block release at HCT.
Each bursary will last for 12 months with a total of 16 being offered over two years. It is expected that applicants will be interviewed late this year to start placements early 2011. Anyone interested in applying for a placement will be able to find more details on the NHIG website
www.nhig.org.uk
.
Chris Topp & Co Ltd located at Tholthorpe and Carlton Husthwaite in North Yorkshire are participating as training providers in this project.