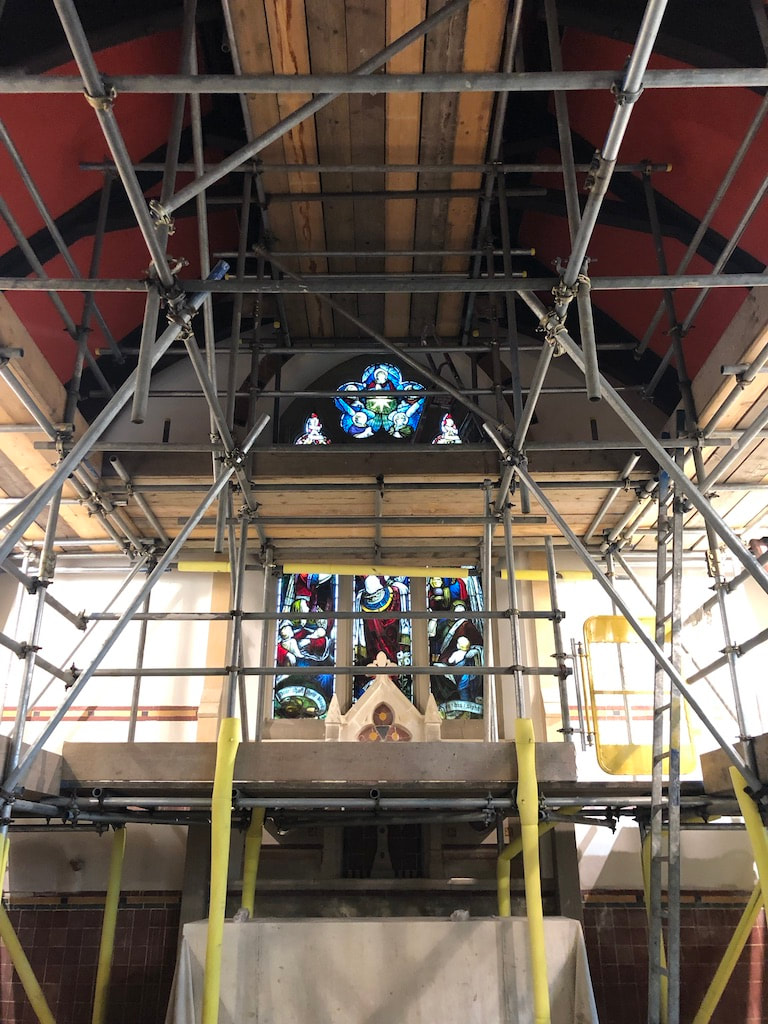 Long-established Hertfordshire company Rodells has been providing steeplejacking, lightning protection and other specialist access services since 1898.
The company now encompasses a large scaffolding department, fully equipped to gain access to buildings of all sizes and functions, together with a specialist church and conservation department.
A joint venture between those two departments carried out a notable project at Holy Innocents Church at Kingsbury in the London Borough of Brent. An internal birdcage was constructed in order to gain access to the areas that needed repairing.
Meanwhile, the company's rope access team boarded up one of the windows to enable the poles to be carried inside.
The main issue the scaffolding department had to contend with was that, unlike on most sites, the majority of the materials had to be passed through small windows. That meant standard techniques of offloading could not be used. The team managed to get around that by passing the beams piecemeal through the windows and they managed to erect the entire scaffold in a remarkably small space (pictured).
Rodells was founded in Luton in 1898 by Leonard Rodell as a steeplejacking company. The end of the 19th century and the early 1900s saw many engineering and textile firms operating in Luton and throughout Hertfordshire, and Rodells drew many of its early clients from those firms.
The advent of the Clean Air Acts and other environmental legislation during the second half of the 20th century led to a reduction in the number of boiler chimneys across the country and to Rodells expanding their own operations into scaffolding and other specialist access works – a trend that has continued into the present century.
For further information visit www.rodells.uk