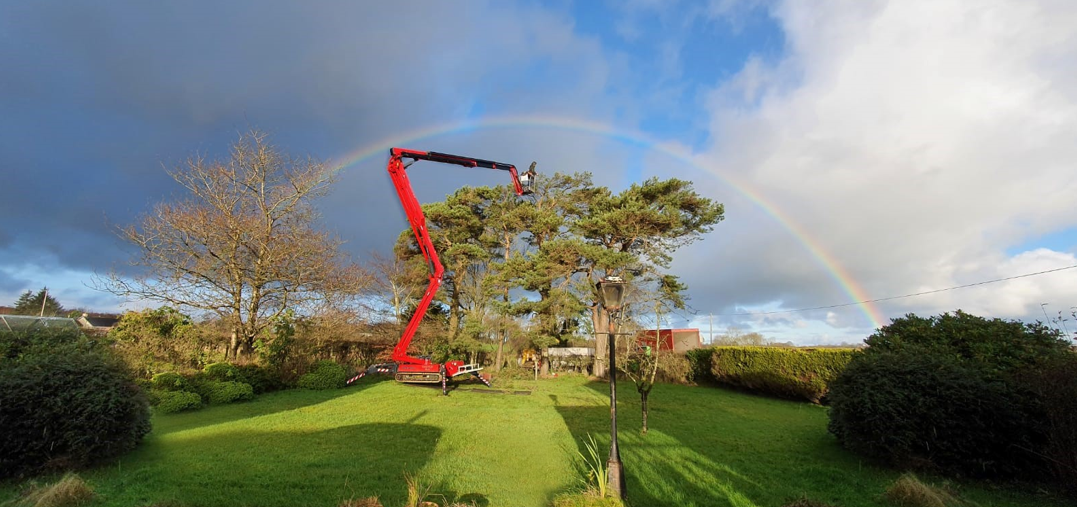 It must be a candidate for access platform picture of the year - and 2021 has only just begun.
Tree surgeon Ian McClelland had been trimming fir trees from the basket of his Hinowa Lightlift 26.14 Performance IIIS spider platform when a rainbow appeared immediately behind him.
Fortunately, his customer could spot a picture opportunity when he saw it and took a series of snaps before the rainbow faded away.
Ian McClelland said: "I had my head down busy at work so didn't know what was going on until after the rainbow had disappeared.
"But the pictures are great. The rainbow couldn't be more perfectly placed behind the spider platform and the clouds and sunshine together made for a dramatic shot.
"It made a relatively straightforward job quite special. We'll have to wait a very long time to get the same opportunity. No pot of gold this time either, but a great record of the occasion."
Ian McClelland (it's the name of the business as well as its owner), in Ballymena, County Antrim, Northern Ireland, has just taken delivery of a new Hinowa LL 26.14 to replace one he has run for several years.
The company also has a Hinowa Lightlift 20.10 Performance IIIS. Both spider platforms were supplied by Access Platform Sales (APS), the UK and Ireland distributor for all Hinowa products.
Shane Paver, Northern Sales Director for APS, said: "Wow! We're pleased Ian shared the picture with us. It puts a smile on the face of everyone who sees it, and it shows the Hinowa in a very good light!"
The project given the special multi-colour light show was a perfect example of why Hinowa spider platforms are a first choice for tree surgeons in the UK and Ireland.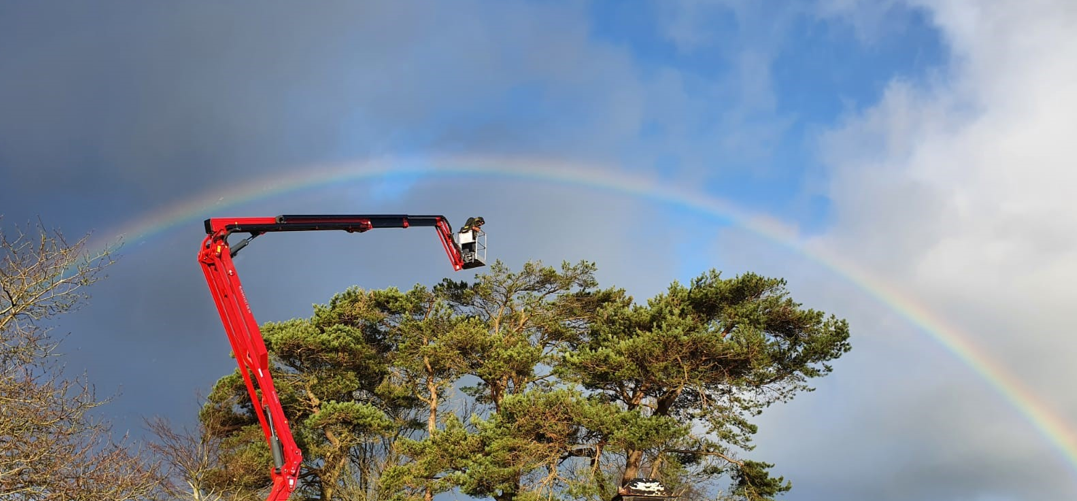 The large fir trees were in the back garden of a private home - and Hinowa spider platforms are designed to be highly compact and maneuverable so are ideal for reaching such constrained spaces.
Ian McClelland said: "Access through narrow garden gates is part and parcel of our daily work, so having the Hinowa spiders is pretty essential if we want to work from access platforms, which we do for safety and speed.
"Also, there are often other obstructions, like ponds, outhouses, sheds, plants and ornaments that we have to move around and work over. One or other of our Hinowas can cope with just about any situation."
The Hinowa LL 26.14 has a maximum working height of 25.7m and a maximum outreach of 13.6m. The Hinowa LL 20.10 provides a working height up to 20.1m and outreach up to 9.7m.
The LL 26.14 is 990mm wide in tracking mode, and the LL 20.10 just 790mm wide. Both have an unrestricted basket capacity of 230kg and one button set up and stow, features that enhance safety and productivity.
Ian McClelland said: "The Hinowa LL 26.14 is phenomenal for high tree work and the LL 20.10 has the advantage of being transportable on a trailer behind a 4x4 or van so we can get it anywhere off-road.
"The service provided by APS is also second to none. Any technical questions we have get answered straight away and we get very fair deals on when we renew our platforms. It's an excellent service all round.
"The only thing they can't guarantee every time is a rainbow!"
For further information visit www.accessplatforms.co.uk