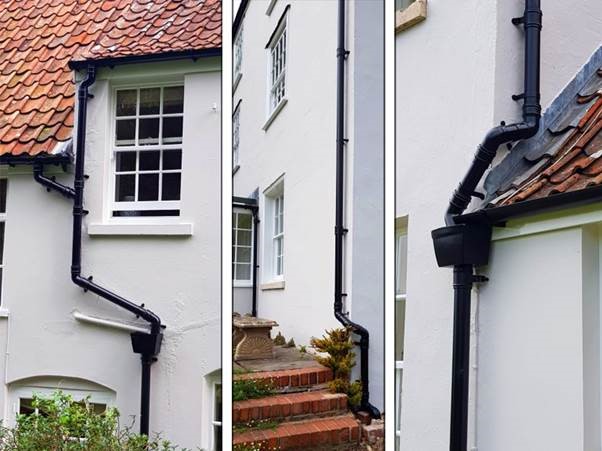 Rainclear Systems, the UK's leading stockist and online retailer of metal rainwater systems are offering an extra 5% off all their Cast Aluminium rainwater Ranges in October 2020.
Traditional cast aluminium is manufactured in the UK and sits at the upper end of the price range for metal guttering - More expensive than our extruded aluminium and galvanised steel ranges and more or less equal, depending on the project, to the cost of pre-painted cast iron - It is strong and long lasting and best suited to quality, traditional style projects.
Aluminium does not rust. Any exposed aluminium surfaces simply oxidize to create a natural barrier. In a normal domestic application, a cast aluminium system should last in excess of 25 years (40 years in rural/urban areas and 25 in marine or industrial environments).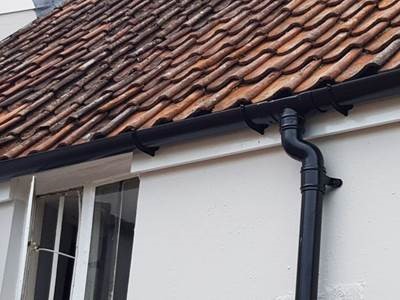 80% of the aluminium rainwater systems already in use in the UK have been manufactured from recycled aluminium and all aluminium is infinitely recyclable at the end of its life.
The traditional cast aluminium gutters come in 1.83m (6ft) lengths with pipe in the choice of 2m or 3m long making it an ideal alternative to cast iron where conservation planning permission allows. The heritage style textured powder coating finish is designed to give the same consistent traditional 'sand cast' appearance of cast Iron. In fact, the Cast Aluminium Gutters and downpipe collars and shoes with ears are 'cast' and so do have the same 'pitted' surface that results from the molten metal cooling and setting in a sand mould. But because the downpipes are NOT cast but extruded, it makes sense to powder coat the gutters, hoppers, and downpipes in a 'textured' finish to keep a consistent finish.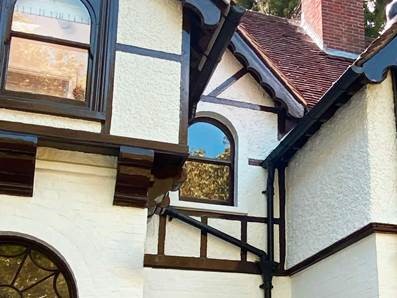 Textured black is generally stocked and so is available next day. Rainclear has worked closely with the manufacturers to make 5 other textured colours - in a range of greys from dark, to light to white - available in 15days. Another 26 standard RAL colours in 10days, and other RAL and BS colours can be available on request with longer lead times and various surcharges – it is best to talk to us in the first instance and we can find out more for you.
Only periodic maintenance is necessary; applying a warm soapy water solution to bring back the original appearance - once in the Autumn and again in the Spring - while checking for joint integrity and removing any accumulated debris at the same time.
The heritage style Cast Aluminium ranges include:
The most popular Half Round profile
The traditional Victorian and Moulded Ogee profiles
The latest additions to our website: Beaded Half Round and Beaded Deep Run profiles
Round and Square Downpipes
The new addition of a heavy-walled Round Downpipe
Standard and Ornate Rainwater hopper heads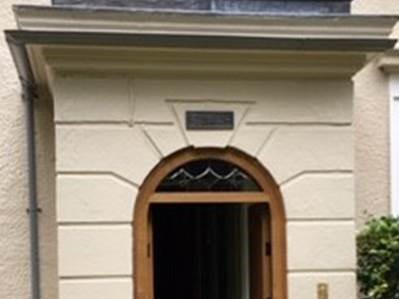 Half Round profile cast aluminium gutter
Half Round Cast Aluminium gutters can be supplied to resemble cast iron in a 'textured' black, making them just as ideal to use on traditional, historic and restoration projects where cast iron is not specified. It is lighter than cast iron making it easier to handle and fix.
Victorian and Moulded Ogee profile cast aluminium gutter
The Victorian and Moulded Cast Aluminium profiles are low maintenance alternatives to renewing Cast Iron guttering in those profiles, while maintaining a like-for-like appearance, or where a traditional character is desired. The 5×4" Moulded Cast Aluminium guttering is a deeper profile with greater capacity for locations with higher than average, or intense, rainfall.
Beaded Half Round and Beaded Deep Run profile cast aluminium gutter
The deeper 4.5x3" Beaded Deep run profile is now stocked in textured black as they are the ideal choice for properties that require extra rain-flow capacity due to their location in high rainfall areas.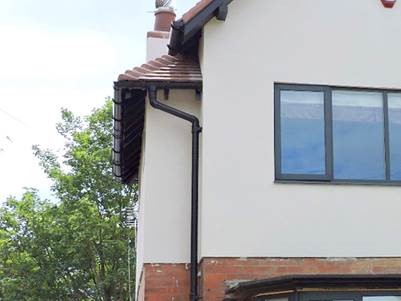 Round and Square cast aluminium downpipes
Round downpipes are available next day from stock in Textured black in the 63mm, 76mm & 100mm diameter. Square downpipes are available in Textured back and other standard colours in 15 days.
Heavy-walled Round cast aluminium downpipe
We recently added a Heavy-wall Downpipe, with a cast eared socket and available in Textured Black in 10 days, to the Cast Aluminium Rainwater Range. The 76mm (3") diameter pipe has a 3.2mm thick wall (vs the 1.2mm wall of the usual pipe) making it ideal for the high traffic end of each downpipe drop where it's more likely to take the most knocks.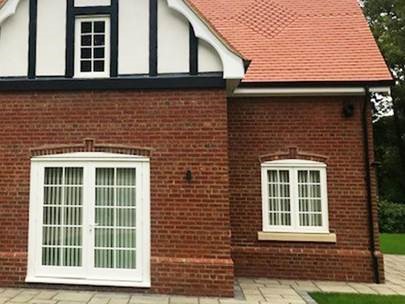 Standard and Ornate Cast Aluminium Rainwater Hopper Heads
A hopper head fitted just below a gutter was the Victorian way of enabling their drainpipes to carry 66% more water in heavy rainfall. In heavy rain fall the hopper head fills up with water and becomes a syphonic system. They can also just be used for ornamental effect or to allow more than one pipe to go on to run into just one drainpipe. Some of the standard hoppers are stocked in Textured Black for next day delivery. The more ornate ones can be customised with various 'emblems' or motifs to order in 15 days.
Please take note of their 'Storage of Powder Coated Aluminium' guidance before you place your order: https://www.rainclearsystems.co.uk/downloads/#storage-of-ppc-aluminium-guidance
Visit www.rainclear.co.uk to browse and buy the Cast Aluminium ranges online now and input 'CAOct20' at the checkout to receive an additional 5% OFF - only available this October 2020.
If you can't find what you're looking for on the website, have questions, or need any other help call 0800 644 44 26 or email This email address is being protected from spambots. You need JavaScript enabled to view it.. The friendly, knowledgeable team at Rainclear Systems are always happy to offer technical advice, quotations, and take-offs from architect's drawings.