Since setting up a surveying practice in 1993, I have often been asked to look at period properties, particularly for a pre-purchase inspection. In my experience there seems to be a common theme running through many of the cases that I look at, issues that we in our profession need to address: a lack of maintenance and poor quality of work.

To see more information about Hall & Ensom click HERE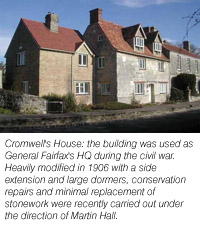 There seems to be a general reluctance to maintain and repair historic fabric and, when it does finally dawn on the owners that some action is needed, advice is often not sought from the relevant experts. Instead they turn to ordinary builders, local contractors and damp-proofing firms, as well as non-specialist surveyors or other professionals who have no great experience or interest in older buildings, other than perhaps the obvious one of making a living.
We need to get the message across to a wider audience of owners, builders and surveyors that the survey and repair of historic buildings require special skills.
While the major historic homes tend to attract the attention of conservation officers and clients, and specialist contractors are usually employed to undertake works, in my experience this is not the case with all older buildings.
Our practice has recently worked on a number of properties where we have fought an uphill battle to persuade contractors and clients alike to accept key fundamentals: for example, that damp proof courses do not exist in old buildings and are not always necessary, and that lime plasters are readily available today and are most effective in dealing with residual dampness in most types of old properties, whether they are of stone or brick construction.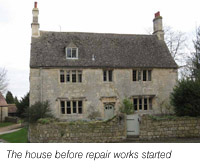 Getting the right level of finish and standards is always difficult. Contractors have to be educated to realise that conservation work does take a little longer and that if they don't have the right degree of skill they should not be working on historic fabric.
Stone repairs illustrate the point. Wholesale replacement is all too common a response to deteriorating stonework. Conserving existing stonework is, by necessity, the more difficult option, and many stonemasonry companies seem to exist solely to replace stonework.
Two examples come to mind of properties that we have worked on in the Oxford area where we were able to retain most of the masonry. In the first example, Headington or Wheatley limestone had decayed due to atmospheric pollution and salt migration, causing a loss of surface and detailing. Fortunately much of the stone beneath this outer crust remained firm and viable. In both cases I was able to discuss what might be done to conserve as much as possible of the stonework and to carry out conservation plastic repairs. (What an unfortunate term this is: perhaps someone can come up with a better one.)

In the other example, which was a Grade II* listed building, we found evidence of an old application of limewash, and we were able to secure consent for re-limewashing the principal elevations. Once on site the first step was to insert additional timbers within the roof space to reduce the loading, as this was causing movement in the facades below. It was then possible to proceed with consolidating and re-pointing the stonework prior to limewashing. However, in some places earlier cement repairs had to be left in place since removing them would have caused more damage, and problems occurred in applying the limewash over these areas. Problems also occurred where past plant and lichen growth had become engrained in the stonework. Despite efforts to clean this off prior to the application of limewash, residues of the growth started to reappear later.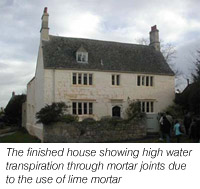 Limewashing was also recommended in the first example, but was not desired by the client. Careful repairs were undertaken, again to conserve existing stonework and to re-point only where necessary.
Both projects, although small scale, were entrusted only to specialist contractors. It was felt that local general builders were not capable of undertaking this work which, although relatively straightforward, is quite time-consuming and obviously requires some degree of practice.
All of this, I suspect, is not news to any of us. Nevertheless, we must do our bit to apply our knowledge effectively and persuasively to the benefit of these and other ordinary, unspectacular, but very important historic buildings, rather than just concentrating our efforts on the very finest buildings. This approach will allow us to maintain our built heritage in an effective way for the future.