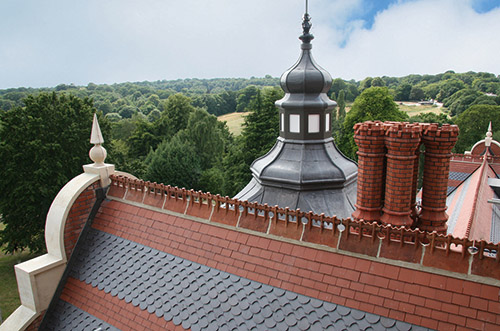 Athlone House is a brick and stone Victorian mansion built in 1871, lying on high ground just beyond the northern edge of Hampstead Heath, within the Highgate Conservation Area. Over its 150-year history the house has been used as a private dwelling, a secret RAF school during World War Two, and more recently an NHS home for people with dementia. From 2003, however, it had been left derelict.
Built in an eclectic Victorian style, the exterior façade features Dutch gables and a prominent stone tower, glimpses of which can be seen from parts of the Heath.
The house has recently undergone major restoration by main contractor Knight Harwood, to bring it back to its former glory and transform it into a beautiful modern family home. The new scheme, designed by SHH Architecture, won approval from Historic England, who were keen to preserve the character and appearance of the Highgate Conservation Area.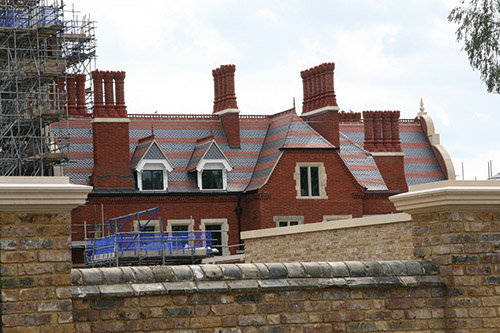 Initially it was hoped that the roof could simply be renovated and the old clay tiles reused. However, as Tina from roofing contractor Attley's Roofing explained: "The roof needed to be brought up to modern roofing standards and there was not enough lap on the existing tiles by modern standards, and by increasing the lap we needed a greater number of tiles."
The old tiles also had no nail holes so they could not have been refitted onto the roof to modern standards. Moreover, it is not recommended practice to mix old tiles that have already done years of service on a roof with new tiles that are at the beginning of their lifecycle, so the decision was made to use a new replacement tile that was as close a match as possible to the originals.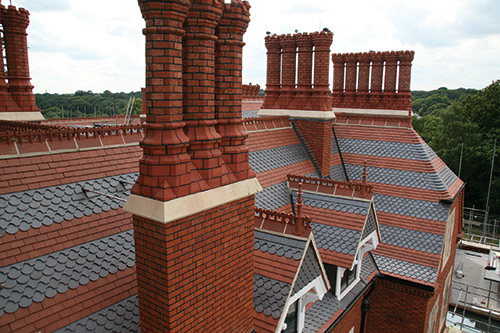 Following the pattern on the original roof, alternating bands of plain red tiles with bands of ornamental spade and fish tail tiles were to be laid, bringing a visual richness to the roof. Plain red smooth tiles by Dreadnought were specified, together with Dreadnought Staffordshire blue ornamental spade and fishtail tiles.
Attley's Roofing began by stripping off the tiles, but unfortunately found that much of the timberwork needed to be replaced. They were consequently forced to pull off site for three months while the new timberwork was put in place. Attley's worked closely with Knight Harwood to create a number of mock-ups of the roof so the architects, as well as Historic England, could all be in agreement on exactly how the complex roofing details would work. There were a number of elevations with different roof pitches, and in order to match up the bands of ornamental tiles and the alternating red and blue colours Attley's had to vary the lap in places, reducing it to 85-90mm at times.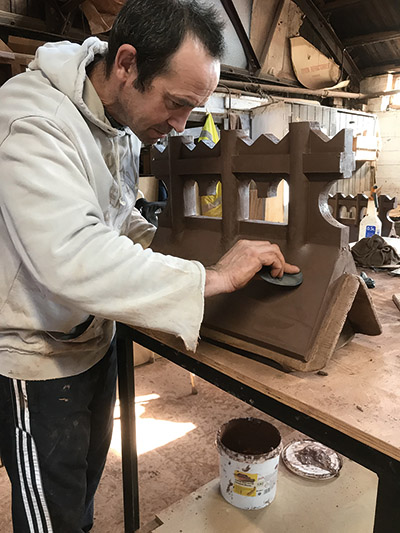 Dreadnought's clay colours are produced naturally during the firing process by expert control of the kiln atmosphere, without the use of artificial stains and pigments, and their authentic Staffordshire tiles made from the finest Etruria marl clay provided the best match to the originals.
A small number of the original bespoke ornamental ridges were able to be salvaged and reused, and Dreadnought created an exact copy to replace the 161 broken ones.
David Sherry of Dreadnought Tiles explained the complexity of the job: "We often match bespoke pieces for heritage projects, but most bespoke ornamental ridges are extruded in one piece and are then worked on by hand to create the decorative detail; whereas this intricate ridge was much more complex: 11 separate clay pieces were carefully moulded together to make the right three-dimensional profile before the cut-outs were added to make the final ornamental details.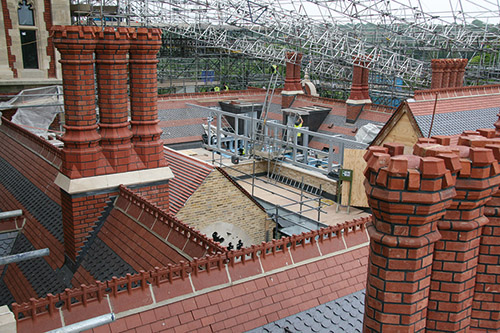 "Normally, bespoke finials are the most complex components we are asked to make, and we would normally only make one or two of those on a project; whereas this job involved 161 of those ridges, as well as a small number of highly-elaborate ornamental finials which were so large, standing at over one metre tall, that each was made in four separate pieces and then assembled by the roofers on site."
This was no ordinary renovation project for anyone involved. A special free-standing scaffolding had to be built to give access to both the roof and the facades of the building, and to cope with the wind loading on the elevated and exposed site. The scaffolding, created by Millcroft, was designed using 3D modelling and took a team of 25 experienced scaffolders 14 weeks to construct.
The entire roofing renovation took approximately 18 months from start to finish and Athlone House is once again standing elegant and proud in its prominent position on the edge of the Heath.
• For further information visit www.dreadnought-tiles.co.uk