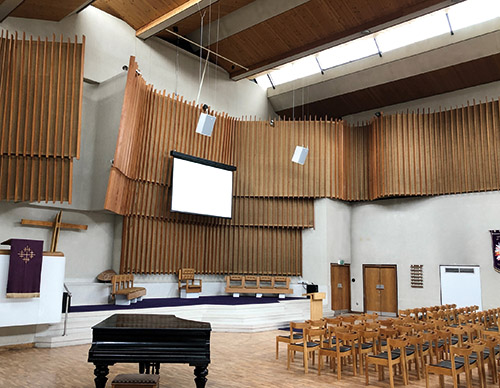 Broadmead Baptist Church in Bristol is built on the foundations of one of the country's earliest Baptist churches. Now, the completion of a dynamic audio-visual installation by Creative Audio-Visual Solutions has led to the church being fully equipped for all the requirements and challenges of worship in the 21st century.
Creative Audio-Visual Solutions (CAVS) are a dedicated church audio-visual and technology integrator, working throughout the UK.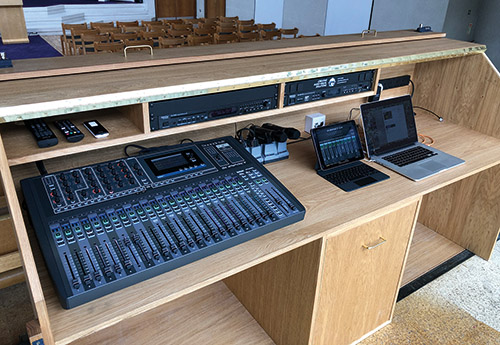 The audio system at Broadmead Baptists is based on the latest Electrovoice EVC speaker – an extremely cost-effective enclosure providing high-quality, full-range music and speech coverage – with the addition of a matching 15" active subwoofer (EV EKX 15SP) to enhance low frequencies. That single flown pair of speakers provides high levels of clarity and intelligibility to both the floor and balcony areas – and is ready for the vibrant worship band and all the other music and audio-visual requirements. Additional EV FM6.2 speakers (dual 6" recessed speakers) provide coverage under the balcony.
The system is driven by a dual DSP level configuration: a speaker processor (DBX Driverack Venu360) to manage room acoustic anomalies and actively monitor any feedback issues, and Dynacord amplification featuring speaker-matched configurations to maximise speaker performance and ensure long-term speaker protection.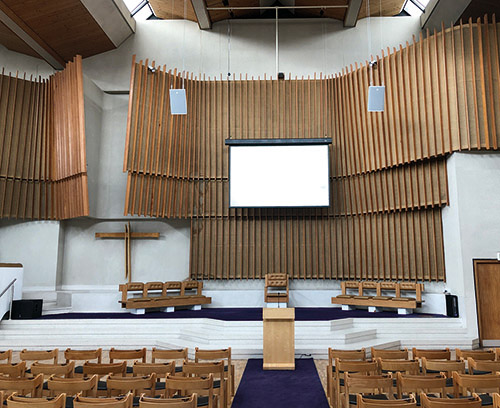 A Soundcraft Si Impact digital mixer console, along with a portable 16/8 digital stage box, provides over 48 active input channels for total flexibility. The stage box has multiple connection points, allowing the worship band to be positioned in different areas depending on the layout of the service or event. The mixer provides pre-set memorised scenes to quickly recall settings for different services and iPAD wireless control from anywhere in the church, via a dedicated managed wireless network infrastructure also installed by CAVS.
New Sennheiser G4 radio microphones, with charging stations and remote antennae, were also installed, to ensure the highest quality and reliability. A Denon media player (DN-500CB – providing CD/MP3 and Bluetooth connectivity) allows music playback from virtually any device and via the matching Denon DN-300R audio recorder. Service recordings can be started at the touch of a single button to USB media.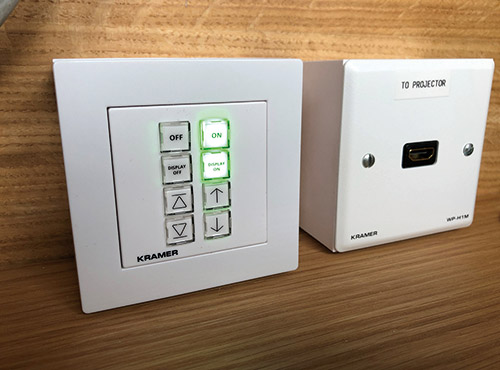 The visual system features a 3m Sapphire dual motor winch screen which discreetly rises to the ceiling when not in use. The latest Christie 7,000 lumen laser projector, fitted with a telephoto lens, provides high-quality visuals, with lampless technology for reduced running costs and reliability. A 65" LED 'comfort' monitor is mounted on the face of the balcony to allow service leaders and musicians to view all projected images without needing to turn to the main screen. The projector, LED display and screen are all controlled via a Kramer RC-208 keypad touch panel – negating the need for multiple remote controls and ensuring the system is simple to operate. Flexible HDMi connections are provided at the main console and platform for laptop/camera input.
Overall the system was designed to be as tactile and approachable as possible, providing high levels of technical capability for more advanced operators but fully accessible and approachable for less confident users – enthusing all to maximise the system's potential.
• For an on-site installation consultation or for advice on the right equipment for your church, call or email CAVS. Local references are available upon request. Plus, for the latest installation case studies and product news, 'Like' CAVS on Facebook (cavsolutions).