The future of one of London's oldest buildings, the Chapter House at Westminster Abbey, has been secured following a major English Heritage-led repair and conservation project. Over the past 18 months a team of 20 master carvers and stonemasons has painstakingly cleaned, repaired and conserved the badly weathered gargoyles, stone floral friezes, flying buttresses and stained glass windows. The colossal scaffolding has now come down to reveal the majestic exterior completely refreshed, revived and weather-tight.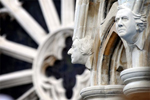 In keeping with both the Medieval tradition and the great Victorian reconstruction of the Chapter House in 1866 by George Gilbert Scott, today's stone carvers have added 32 new heads to the building's eight pinnacles, replacing those Victorian heads which had become unstable through erosion. There are 64 heads in total across eight pinnacles, and the new heads are portraits of the people involved in the ambitious project. They include the masons and architects, members of the Westminster Abbey clergy and the project team from English Heritage. Four new striking gargoyles have also been created. The new carvings add a layer of 21st-century history to the Chapter House and are a testament to the outstanding quality of work of today's carvers and craftsmen.
The significance of the Chapter House cannot be underestimated. Completed around 1255 and described as "beyond compare", the octagonal chamber served not only as the daily meeting place for the monks of Westminster Abbey but also as one of the venues for King Henry III's Great Council and the Commons, predecessors of today's Parliament.
In the 140 years since Scott's 'makeover' ivy, decades of smoke from Battersea Power Station, traffic pollution and the weather had all taken their toll on the building's stone exterior. Nimbus Conservation was contracted by English Heritage to undertake the £3m programme of repairs.
The Chicksgrove Quarry in Wiltshire was their source for 60 tonnes of new stone – a type that most closely matches the Chilmark stone used by Scott's masons and which is remarkably resilient to weathering. Many hours have been spent in creating drawings and clay models. The majority of the stone was carved on site by Nimbus' team of masons and master craftsmen.