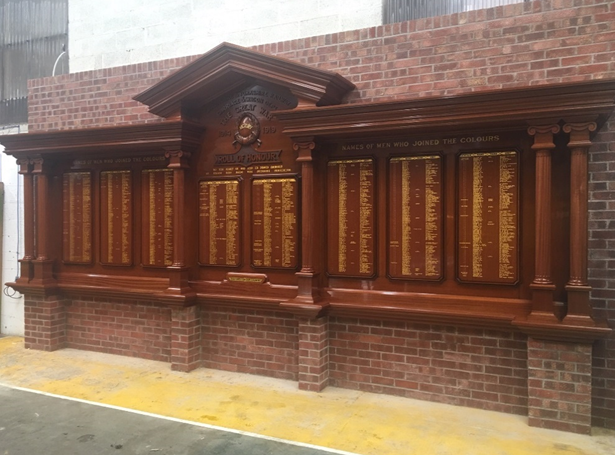 David Podmore and the team at Andrew G Podmore & Son York were delighted to learn their work with the Lancashire and Yorkshire Railway Co. carriage and wagon works memorial 1919 Newton Heath, Lancashire had been nominated for a National Railway Heritage Award and recently, at the 40th anniversary of these prestigious awards in London, the company were honoured as highly commended runners up in the Railway Heritage Trust Conservation Award.
The other shortlisted nominees were Lowestoft Central Station (regeneration east) and Network Rail Commercial Property, Mytholmroyd Station and Shell. The eventual winner was Mytholmroyd Station.
David Podmore attended the ceremony at the Merchant Taylors hall Threadneedle street, where the awards were presented by HRH. The Princess Royal.
This commendation was in recognition of the exceptional work carried out at their Poppleton workshops in restoring the large solid wood memorial commemorating those who served and fell in the Great War. The original structure was constructed and erected by the men and colleagues of the fallen of Newton Heath carriage and wagon works in 1917. This memorial was lost for decades following re siting in the town hall and then its subsequent demolition, until rediscovered by the East Lancs. railway, then restored by Podmores in the summer of 2019
The meticulous work was funded with a grant from the Railway heritage trust and the installation was funded by Northern Rail.
One of the award judges said; "The poignancy of this memorial is that it was designed and constructed by railwaymen to commemorate fallen workmates. It communicates the knowledge and detail of each name referencing their former workplace and their rank and regiment. It is monumental in scale but has this intimate detail. Now as then, it is displayed in its original railway workplace for workers to remember.
David Podmore would like to thank his team for their expert skills on this project and thank The Railway Heritage Trust and Northern Rail for their guidance and support.
The completed memorial installed in the Traction Maintenance Depot Newton Heath Lancashire.
For further information visit www.agpodmore.co.uk