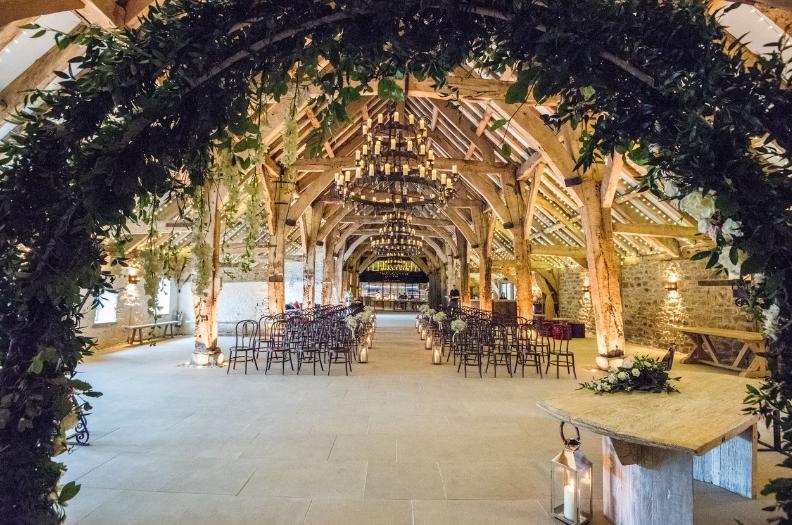 A Yorkshire Dales barn restoration that has become what judges described as "arguably one of the finest wedding barn properties in the country" has won a coveted Royal Institute of Chartered Surveyors (RICS) national award for 'Best Commercial Property'.
The £2 million project to restore the 500-year-old Great Barn at Bolton Abbey, was overseen by Universal Projects, fit out specialists in the retail, office and residential sector.
Working closely with Bolton Abbey Estate (the client), Leeds-based Pearce Bottomley Architects and Cripps & Co (barn tenants), Universal Projects delivered the massive restoration scheme within the 24 week deadline. Working with skilled local craftspeople to retain the integrity and authenticity of the barn, the company restored the heavily beamed interior of the building as well as every last roof tile. Each was individually removed and cleaned before being replaced on a raised roof level. Outside landscaping (including roads), lighting and car park surfacing were also completed using traditional methods.
Said Universal Projects managing director, Robert Skinner: "This was an incredible project to be involved with and has a special place in our hearts. We worked with archaeologists who monitored every dig we made, as we focused on traditional outcomes with modern techniques. We also had to bear in mind at all times that when this building was erected in 1519 there were no foundations. Buildings like this are held up by all the supporting beams – if you like a floating structure. One wrong move and it could have collapsed at any time!
"The most challenging aspect of the project was retaining the building's history and integrity and appreciating its historical value. It was part of the original abbey estate and used to store agricultural produce from the abbey home farm. Recently the barn was used as small workshops and storage for the Bolton Abbey Estate."
Work on the 50 x 170-foot building was completed in 2018, taking less than seven months from start to finish. Now a hugely popular wedding venue it can seat up to 200 guests (300 for evening receptions).
RICS judges said transformation of the 16th century tithe barn from a cluttered agricultural store into a magical wedding venue was 'exemplary' and added: "The Bolton Abbey Estate committed in excess of £2 million from its own funds to the project to transform the building, increase rental income tenfold and achieve payback in seven years. The confidence given by this project has boosted the area and paved the way for further investment in other developments." The flagship venue is now generating 13 times more rental income for the Bolton Abbey Estate.
Martin Hartley of Bolton Abbey Estate said: "The Duke and Duchess of Devonshire, who own the estate, were blown away when they saw the finished result. Universal Projects did an amazing job to complete the project on time, on budget and to ensure the finished project met the estate's expectations. Everyone concerned is delighted with what has been achieved."
Said Robert: "We do a lot of work with Bolton Abbey Estate but to have had the opportunity to work on a project of such historical significance has been a real privilege – and we were actually quite reluctant to hand over the key on completion! It was an absolute joy to work on and we are immensely proud of the fact it has won such a prestigious award."
For further information visit www.universalprojects.co.uk