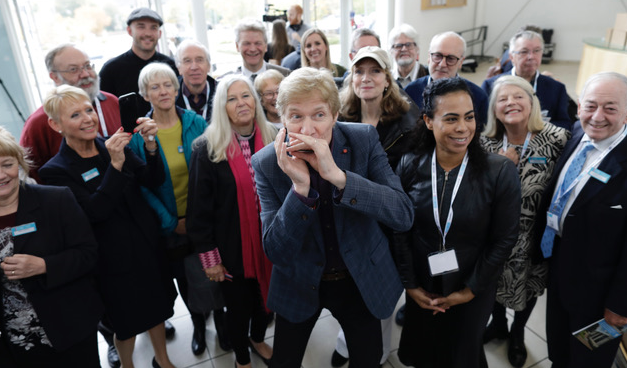 The one-time Manfred Mann harmonica-playing Paul Jones had a powerful backing group as he opened the Christian Resources Exhibition at Sandown Park, Surrey on 15 October.
Early visitors to the exhibition joined in as he played and sang through the song he helped write many years ago - 5 4 3 2 1.
And he ended with a swirl on the harmonica and the crowd roaring out the five-stroke countdown to open the show.
"It has been 12 years since I visited CRE, and it is now so impressive," he said. "There seems to be something for every aspect of church life. As a Christian it is very encouraging to see so many stands and so many visitors."
For a number of years Paul has been a member of the Manfreds, some original members of Manfred Mann who were reunited.
Paul - voted harmonica player of the year for three consecutive years - and his wife, actress Fiona Hendley, then spent the day meeting old friends and new, being interviewed by the Rev Cindy Kent on their lives, singing, acting on stage and film, and their decision to become Christians made over 30 years ago.
More than 200 organisations have stands at CRE National 2019 with card donation kiosks to communion wine, musical instruments to motorcycle funerals, and with more than 60 seminars and presentations covering a wide range of practical subjects from sound systems to church security.
More than 4,000 church leaders and members are expected to visit the event during the three days.
The three-day exhibition continues on Wednesday from 10am to 5pm and Thursday from 10am to 4.30pm.
For more information contact CRE director Steve Goddard on 07930 198209 or press officer Dave Hall on 07745 388599