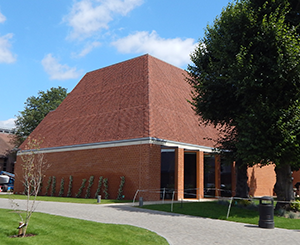 Tudor Roof Tiles Co Ltd, Britain's foremost independent handmade clay roof tile manufacturer, has supplied bespoke handmade clay roof tiles for the prestigious 2019 RIBA National Award-winning King's College Music School, in Wimbledon.
Previously winner of a 2019 RIBA London Award, the new £10 million Music School, designed by Hopkins Architects Partnership, comprises three volumes: a triple-height 200-seater auditorium with a stage for a 70-piece orchestra, a second volume housing music teaching rooms and a large rehearsal space, plus a third volume for practice rooms and offices.
The spectacular pyramidal roof design of the auditorium showcases Tudor's handmade clay roof tiles, with the design being created solely from the distinctive shapes of bespoke roof tiles laid in an unusual triangular pattern.
In order to create this complex geometric pattern, the roof tiles were all made by hand to a size of 400mm long and 100mm wide with a curvature that was within very small tolerances. Six different designs of bespoke tiles, in two colour-ways of each, were used and bespoke hip tiles were specially created with meticulous attention to detail from architect's three-D drawings.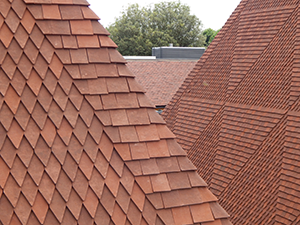 As the building was located in a conservation area, the architect used a palette of traditional materials in an innovative and modern way. Handmade clay roof tiles were chosen in preference to machine-made alternatives because of their subtlety of tone and variations of texture.
Paul Lythgoe, Managing Director of Tudor Roof Tile Co Ltd said: "We are delighted that the Kings College Music School has received this prestigious accolade, which is a testament not only to the inspirational design of the architect but the quality of the materials and workmanship involved.
"We believe that the highly unusual bespoke shapes and sizes of our handmade roof tiles added greatly to the striking visual appeal of this project."
Known for the authenticity of its Peg and Plain clay roof tiles and its technical ability to meet challenging architectural briefs, Tudor Roof Tile Co Ltd uses age-old handmaking techniques in order to create an 'instant aged' and traditional time-weathered appearance, which appeals to both heritage and architectural markets.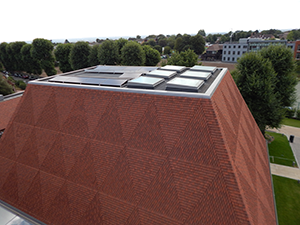 Made from Etruria Marl clay, each tile is carefully hand-pressed, moulded and trimmed and then strengthened using advanced firing techniques, in order to give exceptional durability to modern performance standards.
In recent years, the company has received several accolades for the quality of its products and projects, including the 'Commercial Property Application Using Roof Tiles' category of the 2018 Pitched Roofing Awards, which highlight the very best workmanship in the industry; 'Best Roofing System or Product' category in the 2018 Build It Awards for its 'Bespoke Handmade Clay Roof Tiles', and a 2014 Build It Award for its standard range of handmade peg and plain tiles.
King's College Music School was also shortlisted in the inaugural 2019 AJ Specification Awards, which recognises the quality of materials, innovation and collaboration between architects, suppliers and manufacturers.
For more information visit www.tudorrooftiles.co.uk