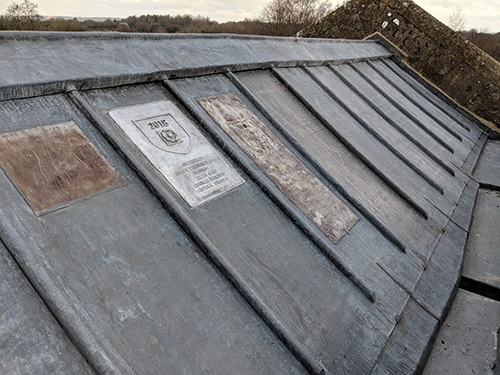 For over a third of a century Ellis and Co Restoration and Building have been restoring and conserving historic buildings and structures across the South West of England and Wales. These much-loved buildings define the character of the South West, so contributing to their upkeep and repair is a source of satisfaction to the company's 70-strong workforce. Ellis and Co are one of the largest heritage-specific employers in the region and they only work on historic and listed building projects.
In the past couple of years the company has been principal contractor on leading repair projects across the South West that have included six cathedrals, a number of churches – including Holy Trinity in Bradford on Avon – and public buildings that have included Salisbury Guildhall. They are currently working on Historic England's headquarters at the Engine House in Swindon and the National Trust's Dyrham Park.
Their work repairing St Mary's Church in Bridgwater and The Rib in Wells Cathedral Precinct won awards at this year's William Stansell Awards – and their lead and copper roof repairs at The Orangery on the Longleat Estate got them to the finals of the National Roofing Awards. These added to an impressive list of awards for their work at Tredegar House and St Giles House in Dorset.
Managing director Matthew Ellis said: "Historic buildings are fundamentally different to contemporary buildings in both design and fabric, so require a special understanding of their materials, structures, build techniques and context. Leadwork is no exception: once original fabric is lost it is lost forever and original materials cannot be easily replaced."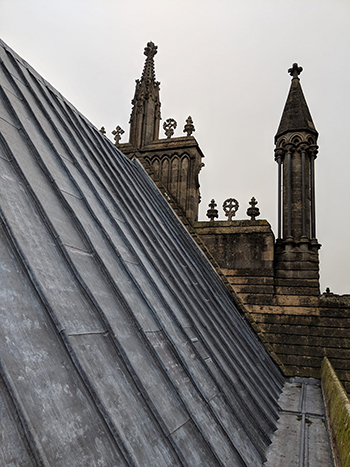 For that reason Ellis and Co seek to conserve as much original material as possible when undertaking repairs. At St Giles' Church, Leigh-on-Mendip (top right), that included cutting out and burning back in the original lead panels to retain lead graffiti with local historical significance.
In repairing the nave and aisle roofs at Wells Cathedral (below), first the lead was stripped and each timber assessed. Repairs were carried out to the substrate and roof structure, aimed at conserving and supporting the original timbers wherever possible by fitting oak inserts, diamond oak pellets and wedges. Firings were added to aid water drainage and Ellis recast and relaid the lead roof, including bays, flashings, guttering and details. The latter included a lead step detail and ornamental features.
Leadwork projects such as that at Wells Cathedral usually also include repairs to historic timberwork, adjoining masonry, and potentially to windows, louvres, weather veins and other high-level features – in order to make the best use of scaffolding.
Ellis and Co directly employ and train heritage-skilled builders in a wide range of specialisms, including roofing, masonry, traditional lime, carpentry and joinery and decoration. That enables in-house teamwork and reduces difficulties that can arise from having multiple subcontractors on site.
Matthew Ellis sees keeping traditional skills alive as an essential part of the job. The company is a member of the National Heritage Training Group and a founding member of the Lead Contractors Association, which seeks to maintain high quality standards in UK leadwork. Ellis and Co themselves have earned the accolade of being awarded an 'Excellent' rating for their workmanship.
Said Matthew: "It has been our privilege to have worked on some of the most iconic structures in the South West, and the vital contribution of our heritage leadworkers ensures that the stately homes, ecclesiastical and public heritage buildings they repair are going to be available for communities to enjoy for generations to come."
• For further information visit www.ellisandco.uk.com