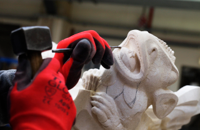 Ecclesiastical Insurance has made a £12,500 grant to the Cathedrals' Workshop Fellowship (CWF) to support the conservation and repair of UK Cathedrals.
Working with nine cathedrals across the UK, including Gloucester, Canterbury, York Minster and Salisbury Cathedral, and in collaboration with the University of Gloucestershire, the CWF offers stonemasons, carpenters, joiners and electricians a recognised career path and route to higher qualifications through a two-year, work-based study programme.
Founded in 2006, the CWF was initially created to provide a progression route for cathedral stonemason apprentices who had completed NVQ Level 3. However, the CWF quickly established the need for other crafts that undertake work on historic properties to understand how to work with these buildings.
The course, which covers essential topics such as the principles of historic building conservation, historic ornamental carving and architecture and archaeology, has since been opened up to joiners, carpenters and electricians. Successful completion of the course leads to the award of a Foundation Degree in Applied Historic Building Conservation and Repair.
Ecclesiastical has been supporting the CWF programme for a number of years. This year's development and student support grant will help fund the course for the next generation of students who will start in September 2019 and will include plumbers for the first time.
Commenting on the grant, Chris Pitt, corporate responsibility manager at Ecclesiastical, said: "As a leading insurer of heritage buildings in the UK, we believe it is crucial to invest in craft skills to preserve our historic buildings for future generations.
"We are proud to be able to continue our support of the CWF's Foundation Degree, which is helping to provide the next generation of conservation professionals and future proof Britain's heritage properties."
Adrian Munns OBE, administrator of the CWF, added: "This is an exciting time for the Fellowship. We have recently expanded our programme to allow other craft professionals to attend the course and are able to offer the programme to commercial companies for the first time this year.
"We are incredibly grateful for the continued support from Ecclesiastical, without which the CWF would not have been able to develop the programme in the way we have, and we look forward to partnering with them for many years to come."
For further information visit www.ecclesiastical.com