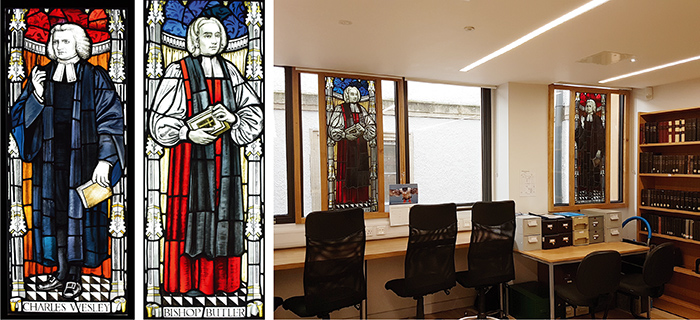 John Wesley's Chapel in Bristol – known as The New Room – opened its doors in 1739 and is the oldest Methodist building in the world. It has been a place of worship, heritage and social action ever since.
In 2017 a new visitor centre opened in the Horsefair courtyard next to it, featuring a café, shop, atrium, library and archive, meeting rooms and new offices – as well as a revamped 12-room museum above the existing chapel.
The Horsefair Project's primary funders were the Heritage Lottery Fund and the Methodist Church.
The New Room was once perceived as 'a hidden gem' in Bristol, but it is now being discovered by many more people: whether they drop in for a coffee, attend a training course in one of the meeting rooms or come to a concert or service in the chapel. The team's motto is 'all are welcome' and their aim is to continue John Wesley's vision of being 'a light in the city' for everyone who visits.
One craftsman who has had a working relationship with The New Room for several years is stained glass artist Wayne Ricketts. Wayne recalled: "Initially I was charged with removing two stained glass windows from the Wesley College, Bristol, prior to its closure in 2010.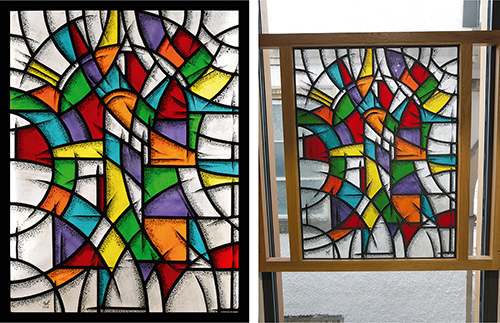 "The windows, depicting Charles Wesley and Bishop Butler, had obviously started life somewhere else and had been adapted, by splitting into nine sections each, to fit into the metal casement windows of the college. Once they had been extricated, they were put into storage at The New Room for future use."
With the development of the new visitor centre it was decided to install the two panels in the library. As they had been rather drastically sliced up to fit the windows at the Wesley College, returning them to their original, single-light state was far from straightforward.
Wayne explained: "Simply joining them back together would have been very unsatisfactory, leaving an incongruous grid over the figures; so I had to take them fully apart, draw up a new cutline and find matching glass – cutting, painting and staining new pieces to complement the pieces that could be saved. Once the two panels had been completed, I liaised with bespoke furniture maker Toby Howes, who made and fitted oak frames and stretchers to the library windows to accept the finished stained glass.
"In addition, I was commissioned to create a new, abstract stained glass panel to act as a screen and bring some colour into a corridor in the toilet facilities. Using the logo of The New Room as a starting point, I created a bold, vibrant and colourful piece. Once again it was fitted in liaison with Toby and has been very well received by the many visitors to The New Room.
For further information on Wayne's work visit www.customstainedglass.co.uk, email This email address is being protected from spambots. You need JavaScript enabled to view it. or call 0117 955 5390.
The New Room is open Monday to Saturday, 10.30am - 4pm all year round. Entry is free, although donations are welcome. It is located in the centre of Bristol's shopping area at 36 The Horsefair BS1 3JE – visit www.newroombristol.org.uk