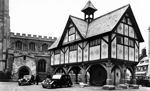 For the first time the public will be able to search online a catalogue describing more than a million historical photographs and documents relating to England's historic buildings and archaeological sites held by the National Monuments Record (NMR), English Heritage's public archive
The details of the wealth of historical material the archive holds – images, plans, drawings, reports and publications covering England's archaeology, architecture, social and local history – is held on a database which can now be accessed and searched online at www.englishheritagearchives.org.uk. Until now, these searches had to be done in person at the NMR's public search rooms in Swindon. 
Using a range of search terms, users can discover whether English Heritage holds any items in its archive relevant to the topic they are interested in, mainly photos, but also including maps, plans or reports. For example, using the search word "Stroud" in Gloucestershire will yield 73 catalogue items relating to the town. You can even search for a type of building, like schools or churches, or for an exact address.
Each catalogue item consists of a description and users can place orders online. A small percentage of the description is illustrated. Registration is free, but customers will be charged for the documents they ordered (price varies). Alternatively, users can contact Enquiry and Research Service to place an order or ask for help if they cannot find what they are looking for.