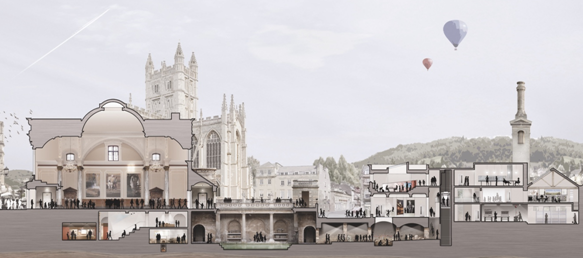 Founded by the Romans as a thermal spa, Bath became an important centre of the wool industry in the Middle Ages. In the 18th century, under George III, it developed into an elegant town with neoclassical Palladian buildings, which blend harmoniously with the Roman baths.
There is a World Heritage Site Management Plan (2010) for the site and a World Heritage Site coordinator is responsible for implementing the objectives and action plan.
Bath Preservation Trust is an important charity that keeps a careful eye on any restoration work in the area. It was founded in 1934 as a small pressure group, with the object of protecting the city's unique architectural heritage. Its first action was to fight plans to pull down parts of the picturesque Georgian city of Bath, England, to make way for a new road. The road was never built. Since this victory, the Trust has saved hundreds more listed buildings from demolition, and has successfully confronted many similar threats to the city.
Today the Trust has approximately 1,400 subscribing members from the UK and overseas supporting its work.
The next issue of the magazine will be spotlighting Bath and its ongoing restoration and conservation work with 2 projects in particular in the vanguard: The Bath and North East Somerset Council Heritage Office will cover the fine work done by them with a focus on The Roman Baths Archway Project and Heritage Centre.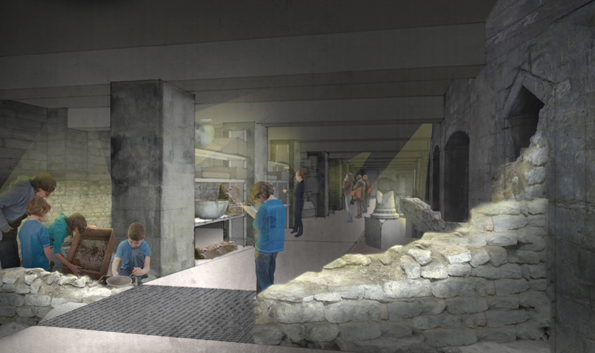 The Archway Project
The National Lottery funded Archway Project will create a new Clore Learning Centre for the Roman Baths and a World Heritage Centre for the city, in former Victorian spa laundry buildings in Swallow Street.
Two new classrooms will enable the Roman Baths to develop formal and informal learning programmes, engaging a wide range of communities and audiences.
The Clore Learning Centre will be connected to the Roman Baths by an undercroft that passes through Roman remains beneath York Street.
An underground Investigation Zone will provide hands-on access to Roman remains through facilitated learning sessions
On the ground floor of the laundry building, a World Heritage Centre will be filled with imaginative interpretation that will show people why the city of Bath is a World Heritage Site, and inspire them to go out and explore the city. In doing so, it will increase understanding, appreciation and enjoyment of the internationally significant heritage of Bath.
The World Heritage Centre will be free to visit and, once established, will aim to attract 100,000 visitors per year.
The project will also open up new areas of the Roman Baths to visitors, including a Roman laconicum (similar to a sauna) and a Roman exercise courtyard.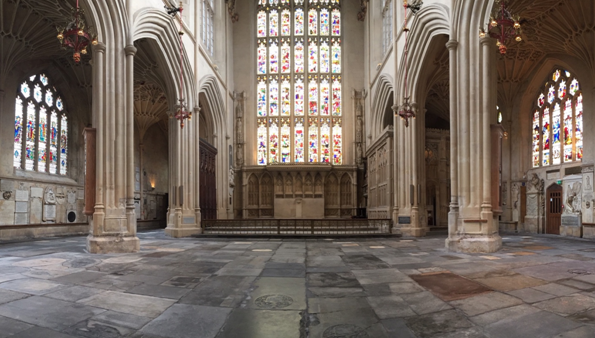 Bath Abbey
There will also be coverage of the first stage of the £19.4 million Footprint Project at Bath Abbey to carry out essential repairs to the Abbey's collapsing floor, install a new eco-friendly heating system using Bath's unique hot springs as a source of energy and enlarge capacity by creating 200 sq metres of new facilities to fulfil the Abbey as a place of congregation.
We will be looking to build on this preview with input from heritage and church restoration experts working in the area and look forward to feedback in this respect for inclusion in this preview and the magazine's Summer issue.
You can donate to Bath Preservation Trust Charity here if you wish http://www.bath-preservation-trust.org.uk/get-involved/donate/
To find out more about how to support Bath Abbey's Footprint project, visit www.bathabbey.org/footprint. Your donations will be generously matched by the Brownsword Charitable Foundation. This means that any donation you give to the Footprint project will automatically be doubled: if you donate £10, the Brownsword Charitable Foundation will also give £10 - your £10 donation is worth £20 to Footprint! Simply use the reference 'FPBF' when donating.
For further information on Bath & NE Somerset Councils heritage project visit www.romanbaths.co.uk/archway