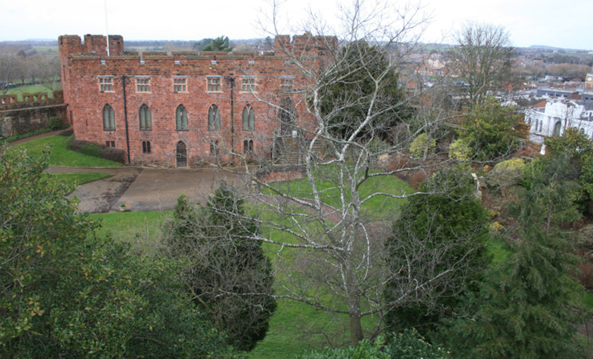 The Castles Studies Trust are excited to announce five grants totalling a record £27,000 that will advance our understanding of castles. These awards mean they have reached the landmark of giving away £100,000 in grants. It has taken six years to do that, during which time the Trust has doubled the maximum amount they can award to £10,000.
Druminnor, Aberdeenshire – Using GPR for an investigation of the 15th century core of the castle – presently under a hardcore car park. This was the original caput of the lords of Forbes. During the 15th century they were amongst the most powerful families in the North-east of Scotland.
Hoghton Tower, Lancashire – This project aims to form an axis of research into Hoghton Tower's unique physical history. The main focus will be to investigate and advance the knowledge of the pre-1560 site and specifically try to test the hypothesis that the north side building may form part of the 'original' Hoghton Tower.
Laughton en le Morthen, South Yorkshire – Excavation to try to confirm the findings of the geophysical surveys the CST funded in 2018. These indicated that the castle was placed right on the top of a high status Saxon dwelling.
Shrewsbury, Shropshire – Geophysical survey and excavation to determine how the castle buildings were laid out in the bailey. This will be the first time the well preserved motte-and-bailey castle has been excavated. First mentioned in 1069, Shrewsbury Castle (pictured) was a key point along the Anglo-Welsh border and fell into ruin following the conquest of Wales. Shrewsbury Castle was founded in the 11th century during the Norman Conquest. It came under siege in 1138 and was almost completely rebuilt by Edward I at the end of the 13th century. The well-preserved earthworks mark out a large castle.
Wressle, East Yorkshire – A geophysical survey of the area to the south of the castle ruins which had been covered by the previous earthwork survey funded by the CST, to get more information about the various garden structures there, as well as other details regarding the deserted village, moat and fishponds. The 14th century castle was one of the most important castles owned by the Earls of Northumberland.
Find out more about the Castles Trust at www.castlestudiestrust.org