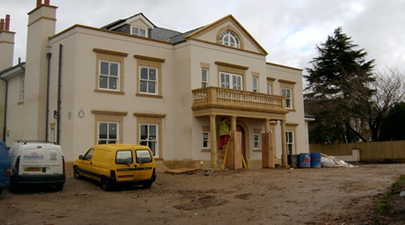 Lancashire-based James Stone Masonry were contracted to fix the precast units to Gabbie House - a prestigious development in Hale Barn Cheshire. The balcony units were fixed to a steel frame using s/s brackets and dowels.
The company installed Jura Limestone panels on the project. The stone panels were supported on corbel plates and restrained back to the block work with brackets and dowels. The finish on the stone panels was a sand blasted finish, the cills were highly polished.
The corners of the house were formed by cutting a birds mouth design on the end of each panel which was done on site to give an overall stunning affect. The Architectural practice who designed the house 780 were Stephenson and Bell. The design won awards for Best Resident Project – Bronze (Roses Design Award), Best Residental Project – Bronze (Civic Trust Award) and Large House of the Year (The Mail on Sunday British Homes Award).

For further information visit www.jamesstonemasonryltd.co.uk