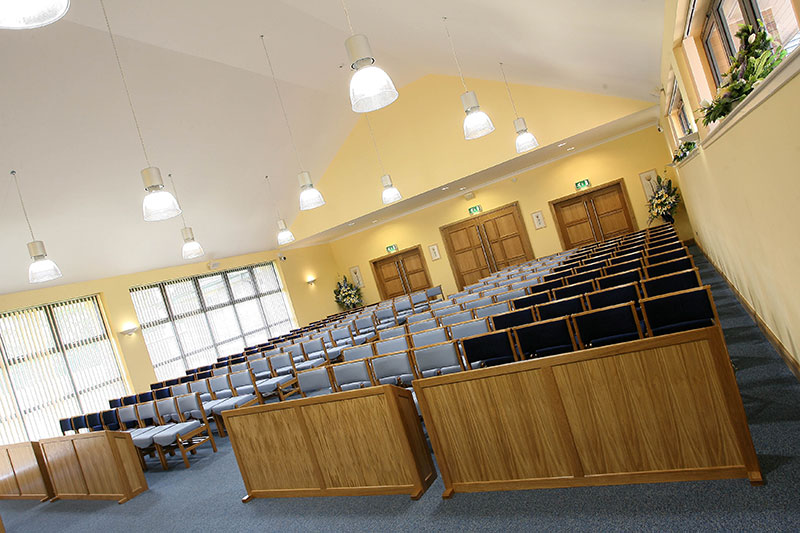 Rosehill are often the contract furniture supplier of choice for the bereavement and crematorium sector. We've been supplying quality furniture to funeral directors across the UK for over 3 decades offering a wide selection of seating and bespoke sanctuary items.
This blog post covers our best-selling items for crematoriums making it easier for you to choose and order your furniture with Rosehill.
Starting with seating we have two very popular options including the Churchill Deluxe and the Faith Chair.
The Churchill Deluxe pictured below has a large 11″ back pad for increased support and comfort. It's traditional style makes it a popular choice for crem's and places of worship alike, plus the underails are included as standard and are ideal for storage.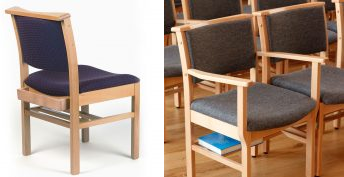 The Faith Chair is similar in style, but was designed to give customers extra flexibility of having individual chairs that could also be linked in a row to create the look of traditional pew seating. It's a practical model and also has options to stack, or include underails or arms. It's an ideal choice for your crematorium seating.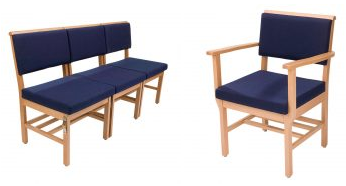 Aside from seating, Rosehill also supply additional furniture items for your crematorium, such as modesty panels and catafalques.
The Rosehill modesty panels are made to order, and can be manufactured to your exact requirement ensuring that the size is suitable for the space. Similarly Rosehill Catafalque's are also bespoke and made to order for your crematorium. You can head over to the product page here for more information, or you can call our team who would be happy to discuss your requirements.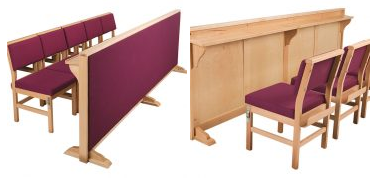 Our Modesty panels have a stable and strong base, and are manufacturer with a solid beech frame and veneered panels, however customers can choose to upgrade to oak if preferred. In the image above the front of the panel is fully upholstered but alternatively shelfs can be added on which makes for convenient storage solutions.
We also supply a range of different lecterns including box lecterns or free standing, both of which are hardwearing, high quality and traditional. You can see our full range of lecterns and other sanctuary items over on our website here. We're confident that you'd be able to find a suitable option for your crematorium.
Other options which you may be interested to hear about include curtains and blinds. We offer the complete service of supply and installation and for more information on this service you can call our team with your exact requirements, however we can offer a variety of fabric types and colours, all of which are of a high contract quality.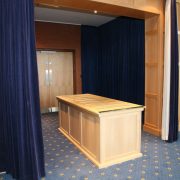 That's a brief summary of our most popular furniture options for the bereavement sector and crematoriums however our team would be more than happy to answer any questions on the above. Just get in touch by calling 0161 485 1717.
For further information visit www.rosehill.co.uk