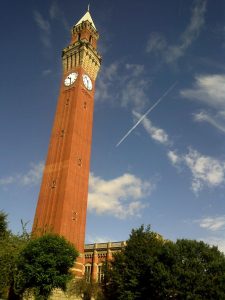 The University of Birmingham boasts the tallest free-standing clock tower in the world at the heart of its campus, commonly known as 'Old Joe' or 'Big Joe'. In 2017 Old Joe fell silent as the Smith of Derby Group carried out repairs to the strike side of the clock so the famous chimes could be heard across campus once again.
The tower has also had other practical purposes over the last 113 years, since it was built in 1905 when the four JB Joyce clock dials were first commisioned. It was originally designed with the physics department in mind to help experiments. In the 1940's the tower was used to test equipment which would form the basis of RADAR technology in World War II and then provided a useful watchtower during the World Wars.
In more recent years the tower has been used as a working water tower, as well as providing a practical element to students and lecturers with the time being displayed from the four 17ft 6" clock dials which are at the top of the 325ft tower.
In 2017 the company's work to the strike side included adjustment of some of the hammers, necessary repairs to the cables along with a wipe and re-grease of all of the hammers. Following this the clock can now be seen and heard across campus giving students no excuse to be late for lectures!
For further information visit www.smithofderby.com