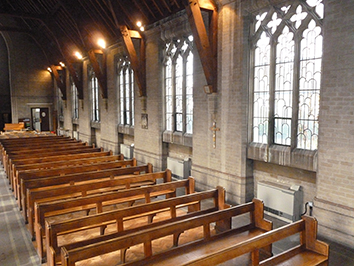 That is the message to church managers from Essex-based Argonaut Heating Ltd, a company with over 40 years experience in the industrial and commercial heating sector.
Specialising in church heating systems, they can provide cost-effective and efficient design, installation, repair and maintenance services and understand the problems involved in heating churches, community centres, halls and other places of worship.
A company spokesman explained: "Churches with heating problems are more common than warm churches – and cold churches often discourage regular attendance. The main problem in heating a church is the age of the building. Since the majority of church buildings are well established, they have a mixture of heating systems dating back to a time when fuel was relatively cheap. These old systems still try to heat buildings once a week but are slow to respond – often requiring boilers to be turned on well in advance. Despite that, the church can still be cold."
"More modern churches, many built in the 1960s, often had electric heating systems installed which are expensive to run. The church is usually heated once a week for Sunday services, but there are always occasions in midweek when the church is used at fairly short notice for services such as funerals, baptisms and the like."
One cost effective and efficient solution to that problem is the use of Rinnai heaters which provide a quick heat-up time. Argonaut is an approved Rinnai installer and fitted such a system at St Alban's Church in Dagenham (pictured).
Alternatively, where it is not practical to install Rinnai heaters because of the nature of the building, for example if it is a listed building, they can also offer the traditional solution using a high-efficiency, condensing boiler and radiators, providing savings in fuel costs.
In addition to the installation of new systems, Argonaut provides a range of church heating services, including boiler replacements, boiler repairs and maintenance services.
All members of the Argonaut Heating team are fully qualified and committed to excellence in health and safety, thus ensuring that all installations and repairs are carried out in compliance with latest regulations. They can offer a free site visit, giving clients advice and a free quote on the most efficient and cost-effective heating solutions for their church.
The company operate throughout East Anglia and the South East of England, including the capital where a high-profile project was carried out at Wren's masterpiece, St Mary-le-Bow.
For further information visit www.argonautheating.co.uk