One of Belfast's oldest and most beautiful churches has won an important prize following a huge renovation project involving tile company Armatile.
St Malachy's Catholic Church, in Alfred Street near the city centre, has been declared NI Project of the Year.
The 19th century church beat several multi-million pound commercial and government schemes.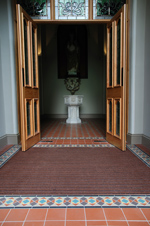 The results of the Royal Institution of Chartered Surveyors competition were announced on Monday the 20 May.
Following the major renovations, many of the church's old features were brought back to life.
These included the altarpieces, the sanctuary, the "inverted wedding cake" ceiling and stained glass.
Designed by Consarc and manufactured and fitted by Armatile the main church floor has undergone a stunning transformation.
Incorporating new mosaic and water jet cut pieces, it succeeds in complimenting and enhancing the original sanctuary mosaic sections.
A bespoke original geometric design was also commissioned for the baptismal area which again was manufactured and fitted by Armatile.
All this was made possible by Armatile's specialised manufacturing facility in Armagh, which allowed the floor designs to be realized to the exacting architectural design specifications.

Overall winner

The church was a favourite of the poet Sir John Betjeman and composer Sir Benjamin Britten.
As well as winning overall Project of the Year Award, St Malachy's took first prize in the Building Conservation category.
Judges said the church stood out with "minimal intervention and maximum sensitivity combined to produce a church worthy of the attention of serious lovers of architecture, secular or otherwise".
The Northern Ireland winners will know compete against other projects from around the world, with the overall winners to announced in London later in the year.