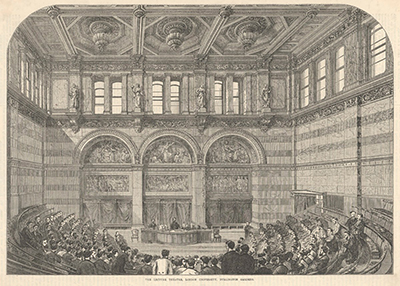 In 2012 Sound Space Vision (SSV) won the competition to be the theatre design and acoustics consultants for David Chipperfield Architects' master plan to unite the Royal Academy of Arts' 18th-century Burlington House with its neighbour, Burlington Gardens, and transform the interiors throughout. SSV's brief was to modernise and equip Burlington Gardens' 19th-century lecture theatre for 21st-century presentation and performance, and was expanded later to include acoustics advice on the new gallery spaces, the learning centre, as well as mechanical systems.
In collaboration with the architectural teams, SSV facilitated a design with minimal impact on the heritage features of the Grade II* listed building, yet provides a future-proofed technical design for the Academy's planned lectures, debates, panel discussions, conferences, recitals and hires.
After several iterations, the form of the amphitheatre settled on a tight, almost semi-circular bowl with a steep rake for a total capacity of over 250, bringing audience and presenter into close communication.
Lighting bars hang discreetly on three sides of the room to light speakers' faces without shadows. Lights were specified to match function – quietness during lectures and moving lights for other events. Edge-blended projectors support large format, high-quality art presentations with excellent colour rendering – imperative for the Academy – and facilitate in-house broadcasts and web casts.
A digital audio system provides integrated amplification and pick-up for recording, streaming, hearing assistance and interpretation. Digital column array loudspeakers provide clarity in a challenging reverberant acoustic. Crucially, SSV continuously reviewed the technical specifications throughout the long design and build process to ensure the infrastructure serves a wide range of capabilities with state-of-the-art technology.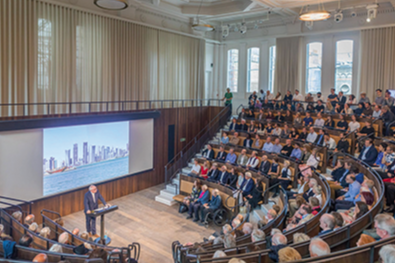 A voluminous double-height lecture theatre with hard sound-reflecting surfaces points to a reverberant acoustic – a risk factor in achieving the brief for good speech intelligibility. Light-touch solutions to control reverberation include sheer, sound absorbing curtains that allow for daylight and perforated leather for the bench seating.
Isolation from external noise and internal building services was also required, alongside MEP and AV systems that would not disturb nearby residents. Heavy, acoustically-treated secondary glazing was specified to the windows and the roof light, and a specification that the mechanical plant adjacent to the theatre should rest on a floating concrete slab to limit noise and vibration. The proximity of the neighbours and risk of intrusive breakout noise (plant and events) was mitigated by way of low velocity, high attenuation ventilation paths, including an under-seat plenum.
In addition, SSV delivered several detailed environmental acoustic assessments of new rooftop plant for submission to the local authority, along with associated MEP services noise and vibration control design advice.
The company's long experience working on listed buildings enabled an efficient and sensitive approach, including non-invasive interventions and fixings to historic finishes, as well as designing and integrating infrastructure and equipment to meld with the building's fabric.
SSV is proud that its contribution has provided the Royal Academy with a unique venue capable of hosting an outstanding new programme of events and upholding its reputation for aesthetic and academic excellence and growth.
The RA's long design and build process culminated with grand opening celebrations in May 2018, coinciding with the RA's 250 birthday celebrations. The Benjamin West Theatre - named after founding member and second president of the RA - has recently been shortlisted for the AJ Architecture Awards, the winner of which will be announced on 4 December 2018. The transformation – and the lecture theatre in particular – has garnered considerable public and critical acclaim:
The Guardian's Oliver Wainwright termed it "the masterful highlight" of the project, and "a rare delight compared to most black-box auditoria." (www.theguardian.com/artanddesign/2018/may/13/royal-academy-of-arts-expansion-reveals-hiddenlife-art-schools) (May 13).
The Daily Telegraph's Alastair Sooke wrote: "Most exciting of all is a new double-height lecture theatre. A horseshoe of 250 steeply raked seats, elegantly fashioned from darkened oak, this auditorium is magnificent: intimate yet, I suspect, capable of generating the electric atmosphere of a bullring..." (www.telegraph.co.uk/art/reviews/has-royal-academys-56-million-gamble-paid-first-look-inside) (May 14).
Jonathan Morrison announced in The Times that: "The elegant lecture theatre, lit by clerestory windows, is a masterpiece in its own right. As a whole it is one of the century's finest restorations." (www.thetimes.co.uk/article/architecture-review-royal-academy-drxkrqdqr) (May 14).
Sooke at the Daily Telegraph agreed, adding: "The most exciting new element is still that lecture theatre, in part because it has one eye on the RA's history, as well as its future." (www.telegraph.co.uk/art/reviews/has-royal-academys-56-million-gamble-paid-first-look-inside) (May 14).
For further information visit www.soundspacevision.com