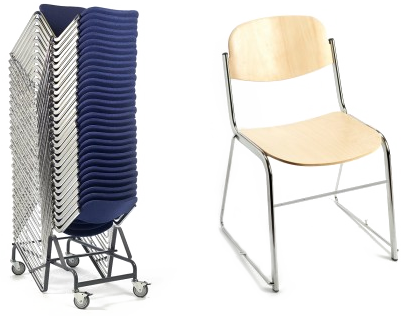 Chairs might seem simple: four legs and seat to sit on. How hard can they be to shop for?
However, when it comes to investing in a set of chairs that are designed to be versatile, easy to use and serve their purpose, there's many more factors to consider! Stef Bewers of Gloucestershire-based Race Furniture explains:
How many chairs should you buy? Where should you store them? Can staff manoeuvre them? How comfortable are they? These are just some of the questions that you need to be asking in commercial or multi-function use settings.
Stacking chairs are one style of chair that offer great solutions and benefits. This type of chair includes any type of seating that can be packed away by being placed one on top of the other. Ease of use and storage are some of the top benefits for investing in this type of seating. Whether it's a restaurant, catering business, a church hall or an event, stacking chairs have many qualities that place them as a very investable option.
One of the more obvious advantages of stacking chairs is the space you can save. Stacking chairs that are not in use can, of course, increase areas of space and allow your business or event to accommodate influxes or quiet times. A major benefit here is how quickly you can change your amount of seating, whilst being able to tidy away seats and stack them in a manageable, space-saving fashion.
Some sets of stacking chairs also come with a trolley or specially-made rack in which to hang or place the chairs on. This can make the ease of use even more beneficial. Trolleys also make it simple to move the locations of your seating. This can often be helpful in multi-roomed properties or at events where seating may need to be moved from one place to another. Do consider how far, or how many times, you may need to 'move' seating when you are considering investing in chairs, as stacking chairs with trolleys are an option to consider.
Storage will be an important factor when making decisions on which chairs to go for. You may only have a small amount of space. In contrast, although you may have space, it is probably preferable that you could use any surface or floor space in a way to be flexible or serve other purposes for your business or event. Stacking chairs, therefore, provide options whereby you can keep your seating in the most compact method of storage- to maximise on other aspects with the space you have available.
Because of the nature of stacking chairs, they are usually designed in a way that is lightweight. This is great if you're wanting to invest in a chair that lots of users can handle and store. It's also useful if your staff need to regularly be in contact with the chairs, as you can feel more secure that most of your staff shouldn't struggle with manoeuvring stacking chairs that are easy and light to carry.
In addition to the practical elements of a set of stacking chairs, you can also appreciate the cost. This style of seating if usually an affordable option and, instead of buying bulky dining sets to fill out a space, stacking chairs with folding tables will provide functionality in just the same way! The cost of these types of chairs are typically dictated by comfort: a cheaper design might be less comfy than one with a higher price tag. You'll also want to consider whether- for your context and purpose- you want to opt for more basic models, or whether you want options that include cushions or padding attached to the seating (for enhancing comfort levels.)
Finally, think of stacking chairs as a solution to many seating problems you might come across. Whether you need to be flexible in the number of seats in a room; whether you only have a short amount of storage; whether you're on a budget, or whether you want a set of chairs that are easy for users to handle, then stacking chairs can be your answer. Investing in stacking chairs offers you a flexible and efficient approach for a vast range of seating needs and arrangements.
Case Studies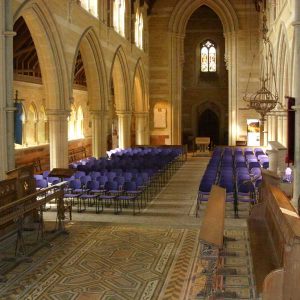 Privett Church
Stacking Chairs UK has recently supplied the Churches Conservation Trust with church stacking chairs that assisted them with their continuing support of historical churches.
The Race Stanway 1 stackable chair was tailored to suite the unique style of Privett Church in Alton and has been appreciated by both the congregation and church visitors alike.
The Stanway 1 upholstered chair can stack up to 30 chairs high on a mobile trolley and has the option to link for straight or curved rows. Frame finishes are black or graphite grey or polished chrome. The chair has the option of a detachable under seat book holder and is available with arms.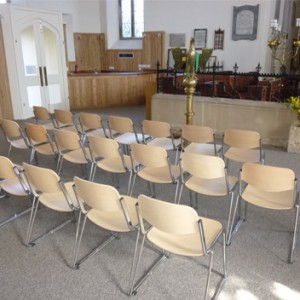 Horsley Church
At Horsley Church it was felt that a stacking and linking chair with a beech veneered seat and back would be the most appropriate finish to compliment this historical interior. Race worked with both the church architect and the church parish council over a 6 month period developing the specification and supplying a selection of sample stacking chairs that could be evaluated by the committee.
The Stanway 3 wooden chair can stack up to 30 chairs high on a mobile trolley and has the option to link for straight or curved rows. Frame finishes are black, graphite grey or polished chrome
The chair has the option of a detachable under seat book holder and is available with arms.
All of Race's stacking chairs are manufactured in the UK at their factory in Gloucestershire and come with a 5 year warranty.
For further information visit www.stacking-chairs-uk.com