The UK roofing industry celebrated and recognised outstanding industry achievements at The Roofing Awards Annual Congress awards lunch on Friday 14 May, in Hammersmith when some 550 celebrated all that is best across roofing spectrum.
NFRC presented the event, with strong support from SIG Roofing, and was joined by the European Liquid Waterproofing Association (ELWA), the Single Ply Roofing Association (SPRA), the Lead Contractors Association (LCA) and, for the first time, the Green Roof Centre and Groundwork Sheffield.
ITV Newscaster Mary Nightingale presented the accolades and prizes including the young persons' competitions and International Roofing Federation competition winners. The Excellence in Roofing Awards recognised and rewarded outstanding roofing projects in all the major roofing disciplines. The following winners were selected based on demonstrated quality workmanship, technical difficulties encountered, problem solving, environmental qualities and aesthetics.
Roof Slating –
Greenough & Sons Roofing Contractors Ltd
, Chester Town Hall, Chester
Roof Tiling – Total Roofing Services Ltd, Anjulita Court Care Home, Bedford
Roof Sheeting –
Gable (UK) Ltd
, The Mountbatten Centre, Portsmouth
Vertical Cladding –
Metclad Contracts Ltd
, Stoke Hospital, Stoke-on-Trent
Fully Supported Metal –
O'Brien Roofing & Leadworks Ltd
, Bay Cottage, Devon
Reinforced Bituminous Membrane –
M&J Flat Roofing entered by IKO plc
, Ele House, University of Hertfordshire
Single Ply Roofing –
Delomac Ltd
, Frobisher Crescent, London
Liquid Applied Waterproofing –
Capital Roofing Co. Ltd
, Birds Eye, Lowestoft
Green Roofs –
Roofclad Systems entered by Alumasc Exterior Building Products Ltd
, Rockliffe Hall Hotel, Darlington
Shingles & Shakes –
Harwood Roofing (Yorkshire) Ltd
, Camphill Rural Crafts Workshop, Chapelthorpe
Heritage Roofing –
Karl Terry Roofing Contractors Ltd
, Heronden, Kent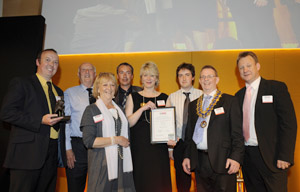 Of all the Safety in Roofing Award applicants received by NFRC, the following received the highest score in their roofing discipline: Greenough & Sons Roofing Contractors Ltd for slating and tiling; Brandclad Ltd for flat roofing; and Gable (UK) Ltd for industrial roofing and cladding. Gold, silver and bronze awards were presented to a large number of members at the regional annual general meetings earlier in the year.
Redland was presented with the Exceptional Contribution to Training 2009 Award from ConstructionSkills for their long sturdy commitment and excellence in promoting roofing training.  The opportunity was also taken at the awards to present the Lead Contractors Association's Murdoch Award and Murdoch Sponsors Award for the best leadwork. The Murdoch Award was won by John Fulton (Plumbers) of Glasgow for their project at the Elder Park Library in Glasgow. The Murdoch Sponsors Award (sponsored by Associated Lead Mills) was won by Vince McKee for their work on a development of Oast Houses in Barming in Kent.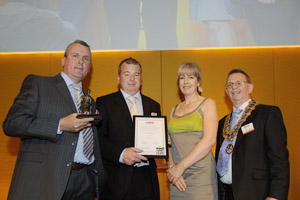 NFRC Board members and Past Presidents of NFRC, Steve Watson and Alex Owens received Pins of Honour for their extensive work for the Federation. Gordon Penrose, NFRC Past President and Board member received the highest NFRC award, that of Honorary Life Membership.
NFRC was proud to have Yellow Pages, B&CE Benefit Schemes, ConstructionSkills, Roofing Magazine and the Electrical Contractors Insurance Company as partners for the event, as well as the Green Roof Centre and Groundwork Sheffield.
The partners, along with the following sponsors, helped make the successful and memorable event: Cupa Natural Slate, EJOT, Fakro, Icopal, Fieldside Health & Safety Management, ICB, John Brash & Co, The BEST show, Marley Eternit, IKO plc, Quality Assured National Warranties (QANW), Redland, Rockwool, SFS intec and Sika-Sarnafil.
Our thanks also go to the following companies for their support of the event: PDT Waterproofing, EcoTherm, Ploughcroft and Roof Assessment Management (RAM) Consultancy Ltd.  For further details please contact Debbie Simcock on 0207 448 3186 or email
This email address is being protected from spambots. You need JavaScript enabled to view it.
.