St Wilfrid's RC Parish Church in Preston city centre is a Grade Two*-listed Jesuit church which draws a substantial number of worshippers throughout the week. It is basilican in form and Italianate in style, with a particularly ornate and impressive interior carried out in exotic materials. Frank Roberts of Preston-based Francis Roberts Architects said of the interior: "Ranks of giant columns of polished Shap granite, topped with gilded composite capitals, define the nave, which terminates in a semi-domed and coffered apse. The aisle walls are lined in rich marbles and mosaics and there is an impressive display of stained glass."
Last summer the church embarked on a project to install a new lighting system and redecorate the interior, under the direction of Francis Roberts Architects.
Parish priest Fr Stephen Patterson SJ explained: "We were aware that the church was in need of new lighting and redecorating. This was exacerbated by the fact the lights appeared to be slowly falling into a state of disrepair one by one.
"We were unsure where to start with the project, so under the guidance of our architects we started carrying out some investigations and asking questions of similar projects where they had been through the same process. It soon became clear that, above all, we needed to engage with companies with suitable experience – not only during the design stage, but equally at the installation and implementation stage."
One of those companies was Anthony J Smith (Glos) Ltd. Company director Neil Blake takes up the story.
"We were invited to attend and discuss the potential of designing and installing a suitable solution at St Wilfrid's. Upon entering the church it became immediately apparent that the existing lighting installation was poles apart from what could be described as normal for modern expectations. The existing wiring and lighting system was 22 years old, and while the existing fittings had operated mostly without problem over that period, they were beginning to fail and repairing them piecemeal was becoming ever more expensive and difficult.
"From the outset it became clear that, as the wiring was relatively new and the likely available budget could not stretch to a complete new wiring system, the solution would need to be built around the adaption of the existing wiring. Having good knowledge of electrical and wiring systems, Fr Stephen was aware that a modern solution capable of meeting his and the parish's exacting requirements could not be provided by a simple like-for-like replacement of the existing outlets, with their existing positions and switching arrangements. It was agreed that, as a minimum, best-quality LED outlets were to be utilised; and that a simple-to-operate and alter scene-setting system should be implemented to provide varying levels of light and ambiance for this busy church.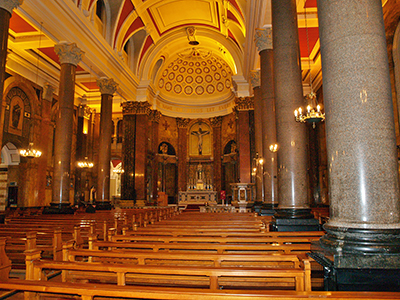 "The solution was built around using modern component parts to adapt some of the existing lighting outlets, while adding new positions to provide the additional flexibility desired. As is normal with these types of projects, not only is the interior of the church immediately transformed visually, but the reduced running and maintenance costs also provide an instant benefit."
Anthony J Smith (Glos) Ltd has been trading for over 40 years, which has resulted in them working in many fine ecclesiastical buildings both large and small and of all denominations. Their reputation is built on not only being able to design and install within a set budget, but also on the quality of installation which is provided by their own directly-employed and loyal staff.
Neil Blake outlined the working ethos of the company: "At the start of any potential project it is important to discuss and establish the requirements, expectations and likely costs. As at St Wilfrid's, it is not always a given that the wiring systems needs to be replaced as a matter of course. Often, wiring systems can be adapted to utilise latest LED technologies while still providing better value for money over the longer term.
"Following an initial consultation we tend to write back outlining a variety of options – each having differing benefits, options, potential shortcomings and, most importantly, a realistic cost. From that point I believe that those responsible for the church can discuss and agree how ambitious they would wish to be and how ambitious they can afford to be."
Following discussions with the client, the architect and other consultative bodies, the redecoration plans were drawn together and implemented by Bernard Watson, a local Preston company which has a strong reputation for delivering high-quality ecclesiastical work.
Director Clare Watson explained: "J Corbishley and Sons was established in 1878 and was taken over by my father in 1978. Since then our family and loyal staff have striven to build on that established, strong reputation. We have been nominated for and received a number of national painting and decorating awards."
Clare not only assists her father in the day to day running of the firm whilst carrying out the on-site restoring, repairing, recreating and stencilling work, but she is also currently only the second female to hold the position of chair of the National Federation of Builders and the NFB's Heritage Group.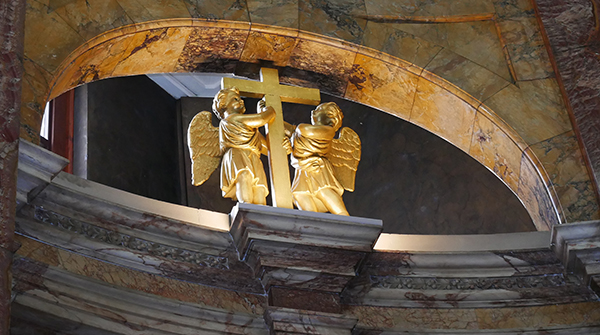 She continued: "St Wilfrid's is one of the finest architectural gems in the North West and being a church local to ourselves, we were privileged to be involved with this prestigious project. The health and safety planning in regard to keeping the church open at key times caused me quite a number of concerns and headaches. A rolling project of moving the scaffold in sections allowed the works to be completed efficiently with the least disruption for the parish as possible."
Fr Stephen concluded: "Our Parish Council were fully aware that any number of companies could provide new lighting and decoration for the church, but ensuring that we found the correct ones that our beautiful building deserved was not quite so straightforward. The care and consideration shown by the engineers and craftsmen during the project was admirable and we as a parish were particularly grateful for the way the works were carried out to allow near normal use of the church to continue. I have little doubt that previous experience of dealing with HCC's and diocesan bodies by our chosen partners in this project assisted, and I would have no problem with recommending them to others considering similar projects within their own churches."
Indeed, the two companies – Anthony J Smith (Glos) Ltd and Bernard Watson – have also been working closely together at St Patrick's Catholic Parish Church in Oldham and expressed themselves more than happy to discuss any upcoming projects with other potential clients.
THE PROJECT TEAM WERE:
Architect: Frank Roberts W: www.francisroberts.com E: This email address is being protected from spambots. You need JavaScript enabled to view it.
Lighting: Anthony J Smith (Glos) Ltd W: www.anthonyjsmith.co.uk E: This email address is being protected from spambots. You need JavaScript enabled to view it.
Decor: Bernard Watson W: www.bernardwatson.co.uk E: This email address is being protected from spambots. You need JavaScript enabled to view it.
Anthony J Smith (Glos) Ltd will be exhibiting at CRE Sandown - Stand S83.