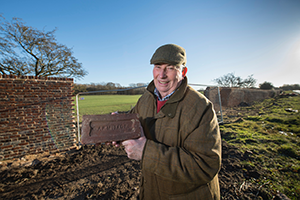 A leading Yorkshire brickmaker is currently helping to rebuild an historic two-mile estate wall near York.
The award-winning York Handmade Brick Company, based at Alne, near Easingwold, is restoring the iconic Allerton Park estate wall - 50 years after chairman David Armitage helped to repair the very same wall.
York Handmade is working with Keighley-based building contractor R N Wooler to deliver the project.
David Armitage explained: "This is a very special project for York Handmade, and especially for me, as I remember my previous company, George Armitage & Sons, repairing the Allerton Park wall in the 1960s. It is a privilege and an honour for me to return to Allerton some 50 years later and to restore the wall to its former glory.
"The Allerton Park wall is one of the best-known estate walls in Yorkshire as it runs along the side of the old A1 motorway between Boroughbridge and the A59 York-Harrogate road. It was badly in need of restoration, as it is exposed to the elements and takes a constant battering from the heavy traffic beside it.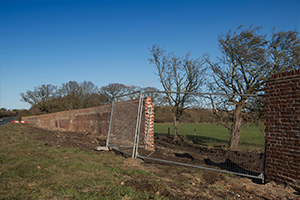 "We are delighted with the way more than 85,000 of our bespoke Old Clamp bricks have blended in with the existing Victorian bricks in the wall – and they will look even more similar once they become a little more weathered. We believe the intricate brickwork, including plinths, does justice to the iconic wall and provides an elegant boundary to the Allerton Park estate.
"As Yorkshire's leading independent brickmaker, we are proud to have helped to recreate a piece of history at Allerton Park and to have added to our track record of repairing and restoring historic estate and country house walls across the county.
"We have worked at Scampston Hall, near Malton, Broughton Hall near Skipton and, further afield, Dumfries House in Ayrshire, for Prince Charles," said Mr Armitage. "This high-profile job is a welcome addition to this track record."
The Hon Edward Stourton, owner of Allerton Park estate, commented: "The Estate values being able to continue the long-standing relationship with a well-established, reputable company like York Handmade, especially as it is so local".
Meanwhile Jane Winter, director at Ilkey-based Collington Winter Landscape Architects, who has project managed the restoration work, said: "It has been a pleasure to work with York Handmade Brick and RN Wooler on this exciting restoration of the brick boundary wall at Allerton Park, which was first built by Richard Arundell (1696-1758) in 1745.
"It has been a privilege to be a part of the team responsible for restoring this section of the wall and contributing another layer to the rich history of the landscape at Allerton Park."
For further information visit www.yorkhandmade.co.uk