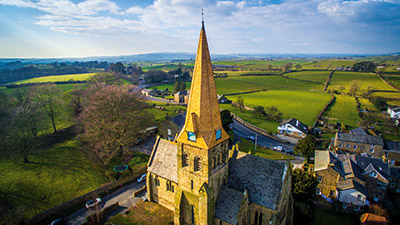 When Grade II* listed All Saints Church in the North Yorkshire hamlet of Burton-in-Lonsdale needed a roof renovation, the architects for the Anglican church turned to JB Shingles from Marley Eternit to deliver a rustic look that harmonised with its surroundings.
The distinctive broach spire, originally built in 1876, had been suffering from weather erosion and needed extensive repairs and renewal, in particular to the shingle cladding, as it was around 60 years old. A substantial grant was secured from the Department for Culture, Media & Sport.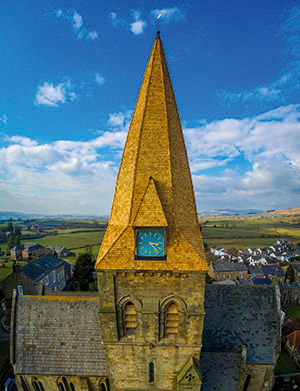 As a listed property, experienced conservationists John Coward Architects knew the project demanded a long-life solution that was straightforward to fix and would blend in perfectly with the local rural environment. This is why they specified Marley Eternit's JB Shingles for the spire restoration – it was a product the architects had used previously.
Contractor Lambert Walker Ltd was appointed to carry out the installation of more than 150 bundles of the product. Completion by the Lambert Walker team was on time as JB Shingles and JB ShingleFix are easy to use, even in adverse weather conditions.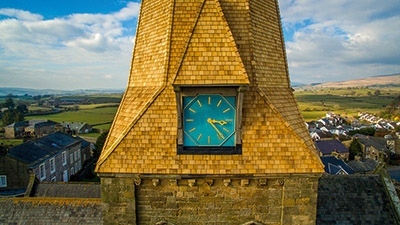 Produced from naturally beautiful western red cedar in Canada and accredited through the Cedar Shake and Shingle Bureau (CSSB), JB Shingles are light to transport, quick to fix on site and require zero maintenance afterwards.
With one of the lowest carbon footprints of any widely used building product, they offer a high degree of thermal insulation, are extremely durable, treated with a clear preservative and weather consistently to blend into the environment. JB Shingles come with a 40-year guarantee and, as the North Yorkshire church needed to harmonise with its surroundings, were an ideal choice.
Mark Antrobus, senior quantity surveyor at Lambert Walker, described JB Shingles as: "A splendid product, most suitable for this situation. Shingles are not commonly used by us, but the fixing instructions were clear and thorough. We were able to complete on time, to the client team's total satisfaction, in spite of the adverse weather."
To find out more about using JB Shingles from Marley Eternit for heritage, conservation and prestige projects, contact the enquiry team on 01283 722588 or visit the website at www.marleyeternit.co.uk