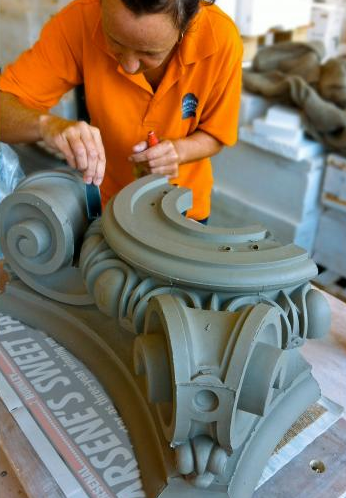 An award winning Lancashire business, Darwen Terracotta, has been invited to feature in the prestigious Parliamentary Review and attend an exclusive reception at the Palace of Westminster on September 18. Participation is by invitation only, enabling selected companies to meet leading politicians and advance the cause of manufacturing and construction.
The company was started in 2015, following the closure, after more than 100 years, of the architectural ceramics division of another local business. Producing terracotta and glazed ceramic cladding – faience – the company has grown rapidly, with products being used on both building restoration and in new projects.
Operations director Steve Allen explained, "We have an interesting and evolving story to tell, which I think is why we were selected. Saving over 30 jobs and preserving the age-old architectural ceramics craft skills is part of our story, but we are moving on. Since starting we have doubled our kiln capacity, have several prestige projects completed, a good order book and pipeline of quality enquiries. We should comfortably pass our £2 million turnover target for the next period."
"The message that I want to take to Westminster is that businesses like ours provide varied, creative and satisfying jobs and we need help to recruit and train the next generation of employees to take this forward and support growth in the UK and in export markets."
Darwen Terracotta is based in the Whitebirk industrial estate, Blackburn. The directors and staff have all been employed in the manufacture of terracotta and faience for most of their working lives. A large part of the company's work is in the restoration of Victorian buildings in the UK, but the company also has plans to expand into overseas markets where Brexit has made their product even more competitive. Faience is also attracting architects' attention for new build work. A good example of this is a £1.4 million contract for facias on a new prestige hotel, cinema and leisure complex to be built in Leicester Square, London.
Sales director Jon Wilson concluded, "This is just the start. We have ranges of new standard products under development that we can use to smooth the peaks and troughs that are part of the construction industry. Having grown to 36 employees, doubled our manufacturing capacity, and shipped our first export order we are enthusiastic about our future and well placed for the next phase of growth."
For further information visit www.darwenterracotta.com