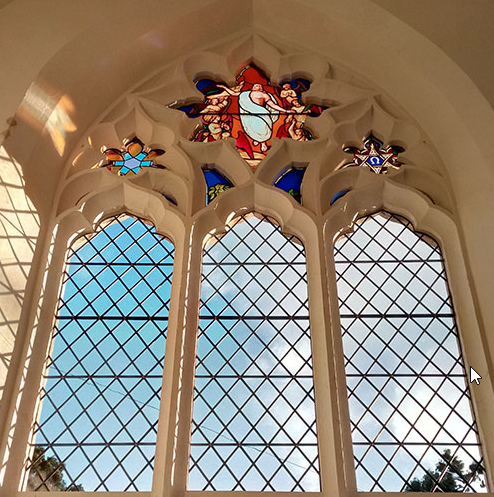 The Norfolk based company Kenton Brauer Stained Glass & Casements have recently taken part in the complete restoration to St Pancras Cemetery Chapel in East Finchley, London by restoring the main West tracery. In addition to this, they manufactured & installed nine new leaded lights to the North, South & West windows and undertook many repairs to the other tracery stained lights within the chapel.
This grade II listed Anglican chapel sits in one the largest and oldest cemeteries in the UK and was built by J.Barnett and W.C. Birch in 1853. It is of a cruciform design with gothic styled decorated windows.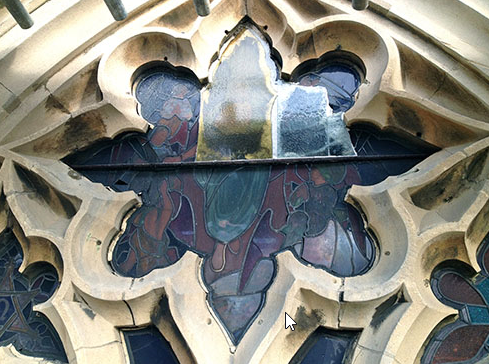 Upon previous close inspection, Kenton Brauer reported that the West main tracery, whilst masked with dirt, silicone & putty, was precariously bulging away from the stonework with glass sections jutting away from their lead, calling for urgent removal & restoration (left). The stained light was damaged overtime due to movement in the stonework above and weathering which has made the whole window distort and cause the glass to fracture. In response, major works took place to the inside stonework above the tracery to prevent any further movement and to protect the restored stained light for the future.
Furthermore, a large area in the stained light was damaged by being covered on the outside with random sheet glass adhered with putty. This was a previous attempt to fill an area of missing painted glass. During the restoration, the stained glass was separated from the sheet glass and putty through a painstakingly delicate procedure whilst avoiding any further damage.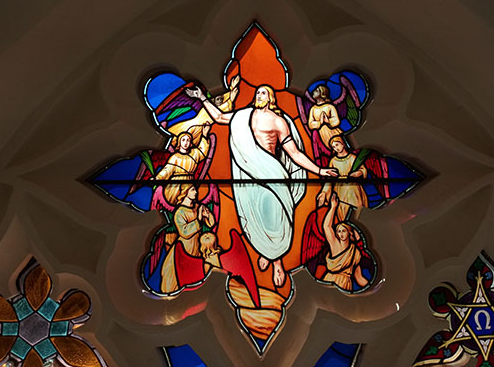 Paige Kenton said: "Many pieces were missing and, with no literatures available of the stained glass artist, we repainted sections using our expertise and references to bring the stained light back to its former glory (right) whilst saving as much of the original glass as possible."
Techniques such as back plating and application of conservation glue replaced the now frowned upon method of mending leads. For instance, Jesus's head had cracked apart from his torso leaving an unpainted chipped line across his neck. This would look equally unsightly if they simply ran a mending lead between the crack and, because this cannot be touched up with paint, re-fired & glued, they decided to back plate the two broken sections with glass that was painted precisely where the paint was missing between the two section.
They then restored other cracked sections with conservation glue that had previously been joined with mending leads when such new technologies were not available. They were able to do this where the cracks were clean with no chipping of paint and the sections had not been nibbled away with grozing pliers. Alongside the restoration of the West window main tracery, Kenton Brauer addressed the nine sheet glazed windows around the chapel. Apart from being unsightly, the size of the single sheet glazing proved hazardous.
Jason Brauer explained :"These were incorrectly fitted; the rebates were packed with timber, silicone & putty and covered with cement when only correct lime mortar should have been applied. This proved to be a difficult task in removing these materials to reveal the original glazing rebates."
Kenton Brauer replaced the single sheet glazing with new leaded lights made in two sections, using clear handmade cylinder P1 conservation glass, with bronze saddle bars, to prevent stone spalling, and manufactured a code 4 milled lead condensation tray to fit to each window cill.
The success of this project has resulted in Principal Contractor Harding Bond Property Consultants appointing Kenton Brauer to work on another project. Chartered Building Surveyor Ronan Bond said: "I have found Kenton Brauer to be very helpful with not only their work but their technical advice in conservation, accordingly have 'named' them as a sub-contractor for another project to a Grade II listed building within Highgate."
For further information visit www.kentonbrauer.com