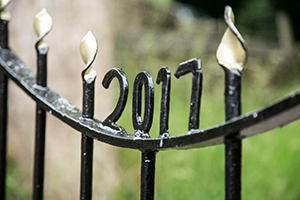 Raikes Road Burial Ground in Skipton, North Yorkshire is a one-acre Victorian cemetery, originally opened for just 30 years from 1846 to 1878, after which it became forgotten and neglected with much damage.
The Friends of Raikes Road, a volunteer group, were formed in 2013 with the aim of restoring the old site, encouraging and studying the wildlife which had taken over the Ground, and bringing it back into Skipton's heritage. There was no surviving documentation about the site except for the Burial Register, from which it could be seen that 2,000 people were buried in this small area, being an overspill from the Parish Church graveyard.
For a one-acre cemetery, it has a wealth of interesting people including Rudyard Kipling's grandparents and other family connections to Robert Burns, the Brontes and Beatrix Potter. The father and grandfather of Thomas Spencer, founder of Marks and Spencers also rest in Raikes Road.
The Mortuary and Chapel had long disappeared, along with the original gates. An indication of where they had been could be found in the holes on the remaining gateposts. By then the only gate which closed the entrance was a typical field gate, clearly not in keeping with a cemetery.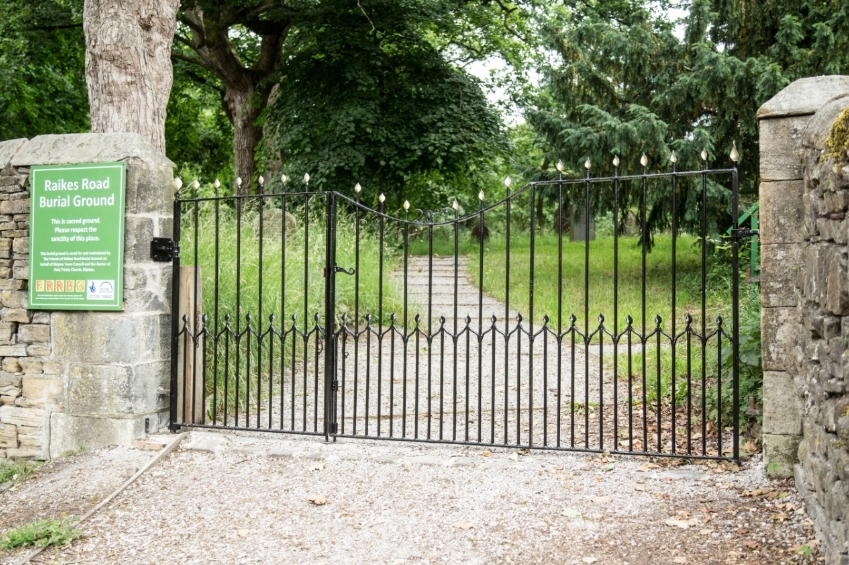 As the Friends' project gathered pace, the group were fortunate to be introduced to Mark Burt of Restoration Ironwork through Skipton Town Council's Estates Manager, Les Chandler.
Mark had made a pair of drive gates nearly 30 yrs ago which had been put into store after the house owner and her husband parted company. They were in good condition apart from the bottom rail which needed replacing. Work was needed to extend them to fit the Burial Ground opening but as they had been made as a 1/3rd 2/3rd configuration they incorporated a pedestrian gate in the design, which was exactly what the Friends wanted as it is rare that a vehicle needs access to the site.
New strap hinges and journal bearings were forged in the workshop plus a complete repaint.
There was no electricity on site but the owners of the neighbouring property were very accommodating and Mark and his team were able to plug into their garage socket when electricity was needed.
The Friends effectively got a pair of gates for about half the price of new and Mark commented
"I was very pleased that this example of my early work has found a home where it is appreciated and that we saved the Council money in not having to commission brand new gates."
The Friends of Raikes Road Burial Ground host several public open days throughout the year, details of which can be found on the website www.frrbg.org.uk.