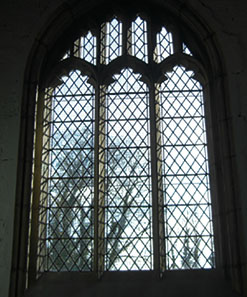 J Goodwin Stained Glass recently had the privilege of playing a small role in the restoration of the historically significant pipe organ of All Saints Church in Roos, Yorkshire.
The organ was built by Karl Christian Reiter of Hull in 1881, and is one of only two known to survive in an unmodified condition. The masonary repairs and timber work were carried out by F Kemp & Son of Skirlaugh, the organ was expertly restored and rebuilt by Harrogate-based Peter Wood & Son, and the front pipes were beautifully reinstated to their original design using colour matched paint by John McWilliams, the church warden.
York-based Joe Goodwin's contribution involved fully restoring the organ chamber's two early Victorian diamond quarry leaded light windows. One of the windows was covered in a thick layer of oil-based paint which had been applied decades ago to mask the organ workings from view.
After carefully removing this green paint from the glass during restoration, the original glazier's name was revealed in graffiti, scribed into one of the glass quarry panes from 1841. Aaron Johnson Brown was the son of the local glazier, plumber and warden of the church. "It is always nice to uncover these little gems which have been unseen in generations," said Joe.
The whole restoration was completed in May, carried out by an excellent group of skilled tradespeople co-operating with one another to get the project finished on time – a great job well done by all involved!

To contact J Goodwin Stained Glass call 01904 591713 or visit the website at www.jgoodwinstainedglass.com.