Planning permission granted by Camden Council
The Trustees of the British Museum are delighted that Camden Council has given planning permission for the World Conservation and Exhibitions Centre. The building will ensure the British Museum can meet its fundamental obligations of preserving, researching, displaying and lending this unparalleled collection for future generations. The building will ensure the British Museum remains one of the world's leading museums, a civic space serving a local, national and international audience.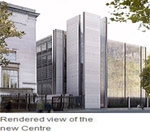 The Museum would like to express its thanks to all those who have supported the project, from English Heritage to Cabe to architectural professionals, to community groups to Camden residents and many others.
We hope to commence work in January 2010 with a proposed completion in 2013. The funding for the scheme is well underway with £92 million of the total cost of £135million already secured. The building is designed by Rogers Stirk Harbour + Partners.
The new Centre
The World Conservation and Exhibitions Centre design has been created to provide a light and interesting finish of specially produced glass and traditional stone to sit well and blend with its grade I listed surroundings.
It will provide:
A dedicated gallery for special exhibitions 
A state of the art conservation and science centre
A collections' management hub to support the Museum's extensive UK and international loan programme
World-class stores for the study collection
The whole project will also improve waste recycling, remove unsightly clutter and restore other existing listed spaces.
New dedicated temporary exhibition space
The new building offers a modern, accessible exhibition space that will enable the successful temporary exhibitions programme to continue and grow.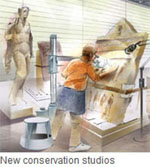 Access to the new exhibition space will be via the Great Court. At over 1,000 square metres, the gallery will provide a space comparable in size to other UK and international institutions.
The new facilities will also improve visitor circulation around the Museum, removing some of the routes that currently force people to double back on themselves. This will help to ease some of the busier areas within the Museum, for example Egyptian sculpture gallery.
New conservation and scientific research laboratories
The new building provides state of the art conservation and science facilities that will support the work of our world class experts and staff. By bringing all the skills together in one place, there is a much greater opportunity for sharing resource and knowledge.
These new facilities will be next to the Museum's study collection stores. This will reduce the risk of damage to objects in transit, and allows more time for conserving and understanding the objects.
Modern scientific equipment that requires specific lighting and a vibration free environment in order to perform well has been cleverly situated in the very lowest level within the new building to ensure it can be used effectively.