Real properties owned by people who take pride in their homes and gardens are captured in the handcrafted and unique ceramic models made by Nottinghamshire based artist Richard Rogers of RAR Ceramics.  
With over 30 years experience in art and ceramics, his business now takes him all over the UK from Scotland to Sussex, South Wales to Norfolk, making models of a rich variety of homes. These have included converted stable blocks, rectories and other listed buildings, some dating back to the 1400's, and also a number of modern properties.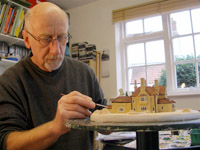 Richard said: "A close friend saw a model I'd made for another project and asked me if I could make a model of his farmhouse.  He was delighted with the result and I found I'd totally enjoyed the challenge. I'd often seen models of houses but not ones that were individually handcrafted of a person's own home, so decided to pursue the idea. What started as a favour to a friend has grown into a very enjoyable and developing business."
Each model made by Richard is handcrafted in clay from photographs and measurements taken during a visit to the property and discussions with the client about the requirements of the finished piece. When completed, they are fired in a kiln and then hand painted with acrylic paints to make sure the colour and finish are as lifelike as possible. No two properties are alike, so the time taken to complete the pieces varies from five to six weeks.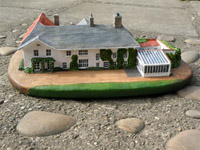 "One of my most recent commissions was a water mill in Sussex, and when I delivered the model, it was a delight to compare it with the real thing," says Richard. "My visit just happened to coincide with a test of the mill wheels turning after extensive renovations, which for me was an added bonus."
"People ask for all kinds of things to be included in their models such as classic cars and garden details. One model even included the family pets and the owner's children took great delight in spotting them. "
"Another challenge was a delightful model of the Royal Station at Wolferton, near Sandringham in Norfolk. The complicated stonework, the making of the platform canopy, and fine details such as the fire buckets and station signs, made the work so interesting and enjoyable to do."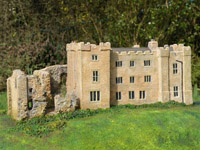 "I'm often asked to make a model as a gift for someone or as an anniversary present. Then of course on these occasions, confidentiality and discretion is guaranteed."
"One of the best parts of the whole process is delivery day when the completed model is seen for the first time. A recent client commented how delighted he and his wife are with the model of their home, and will be passing their recommendations on to their friends."
If you wish to discuss a commission of your home, you can call Richard on 01777703711, email him at
This email address is being protected from spambots. You need JavaScript enabled to view it.
or visit 
www.rarceramics.co.uk