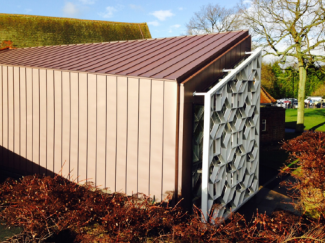 The problem of lead theft can be a huge source of distress and damage but there are alternatives. Over the long-term, metal roofing is the most cost effective - a typical metal roof can last over 100 years whereas other roofing materials need to be replaced, sometimes more than once, during that time.
Minimum maintenance
A properly installed copper, stainless steel or zinc roof is a once-and-once-only job, with little or no maintenance required. Copper and zinc gradually develop a durable patina, which reforms if damaged, while stainless steel is inherently resistant to corrosion. No chemicals are needed – the roof is resistant to decay and naturally fire proof.
Low weight
Copper, zinc and stainless steel are much lighter than other roofing materials and require less structural support. There is a consequent reduction in cost throughout the whole project.
Environmentally Neutral
Today's society is increasingly looking at environmental costs. Copper, zinc and stainless steel are completely recyclable, thus lowering demand on resources and energy.
Appearance
Very formable and ideal for cladding complicated details and shapes, copper, zinc and stainless steel can be dramatically modern or discreetly traditional. Whether it be the luminous green of copper, the rich warm matt grey of zinc or the sheen of stainless steel, a metal roof enhances any building.
Metal Roof Ltd are based in Canterbury, Kent and work mainly across Sussex, Kent, Surrey and parts of London. If you are looking for a top-quality, professional and reliable roofing company specialising in copper, stainless steel, aluminium and zinc roofing and cladding then Andy Grant is your man.
Long standing member of the FTMRC, an association demanding only the highest standards from its elite group of members ,Metal Roof Ltd have been improving the heritage sector for many years.
Their work and testimonials will fill the clients and specifiers with confidence from day one. Here are a couple of examples of what they have in their locker:
Scraptoft Church, Leicester
Metal Roof Ltd worked on Scraptoft Church in Leicester and fitted the entire church, which had been covered in lead, with stainless steel standing seam. The church has three parts and their work therefore consisted of three roofs and the porch.

Westgate Tower, Canterbury
This project on top of the Westgate Tower of the medieval city walls of Canterbury in Kent has given them the opportunity to use some of their traditional techniques. The work comprised a stepped copper gutter around a central lantern.

St Augustine's Church, East Sussex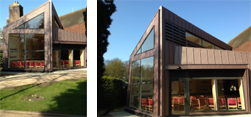 Medway Crematorium, Kent

These are just a few examples of what Metal Roof Ltd can do for you.
If you would like more information about Metal Roof Ltd, with news and glowing testimonials, take a look the website www.metalroof.ltd.uk