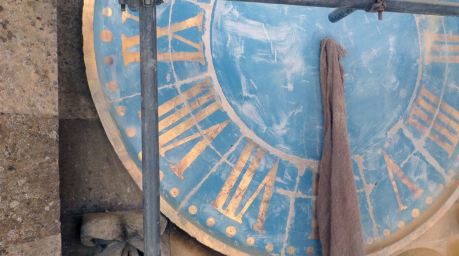 Blenheim Palace is a large iconic country house near Woodstock in Oxfordshire. It is home to the Duke of Marlborough and birthplace of Winston Churchill. As part of a large restoration project on the East Courtyard Tower, Mansfield based Time Assured was chosen to restore four large stone clock dials and a decorative gold coronet above the west dial.
The Dial Restoration project was particularly challenging for a number of reasons.
The company were asked to undertake the work during a very limited period to ensure the overall Tower restoration project was completed on time.
The restoration timetable required that they undertook the project during the winter months of February and March. The low temperatures at that time of year meant they could not use their usual paint system.
Just to make things even more interesting, one of the dials was made of slate and the other three of slate with a substantial perimeter ring of sandstone.
The Blenheim Palace stonemasons undertook major stonework repairs prior to Time Assured's arrival, including replacing a significant portion of the North Dial. Time Assured then undertook the preparation and sealing prior to painting and gilding.
Dial Restoration
The low temperatures and very different porosity properties of the slate and sandstone surfaces required the company to call upon the experts at Dacrylate Paints to come up with a paint solution that would work on slate and sandstone, dry quickly despite low temperatures, and result in a long lasting superb finish that is expected for such iconic dials.

Once painted, the dials had to be carefully marked out with the exact style of the original numerals, minute marks and perimeter rings. Time Assured's clockmakers then applied 23 1/2 carat English gold leaf.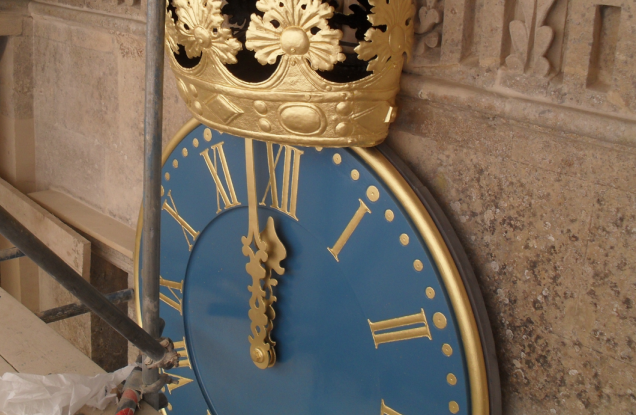 Coronet Repair and Restoration
They were also tasked to restore and repair the damaged and weary looking gold coronet above the west dial. One of the five 'strawberry leaf' motifs had become detached from the lower ring and a new motif was required to be manufactured and attached.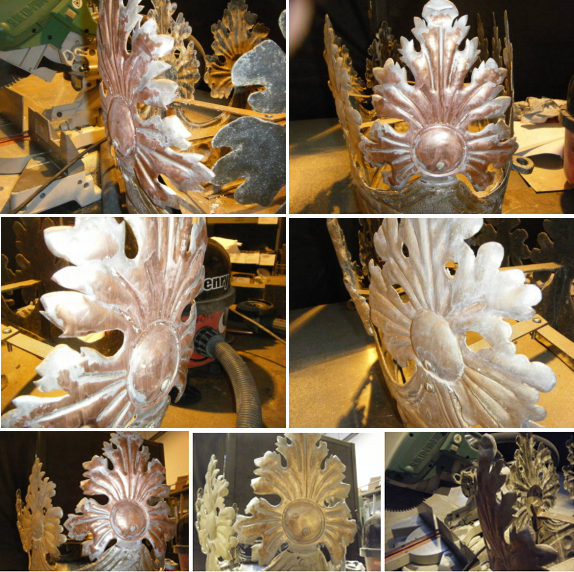 The detail in terms of both intricate styling and the pattern depth of the strawberry leaf needed to be to the same standard as the remaining four leafs. Once attached, every intricate detail of the coronet (800mm wide) was gilded with 23 1/2 carat English gold leaf.
The excellent results speak for themselves in the following series of photographs.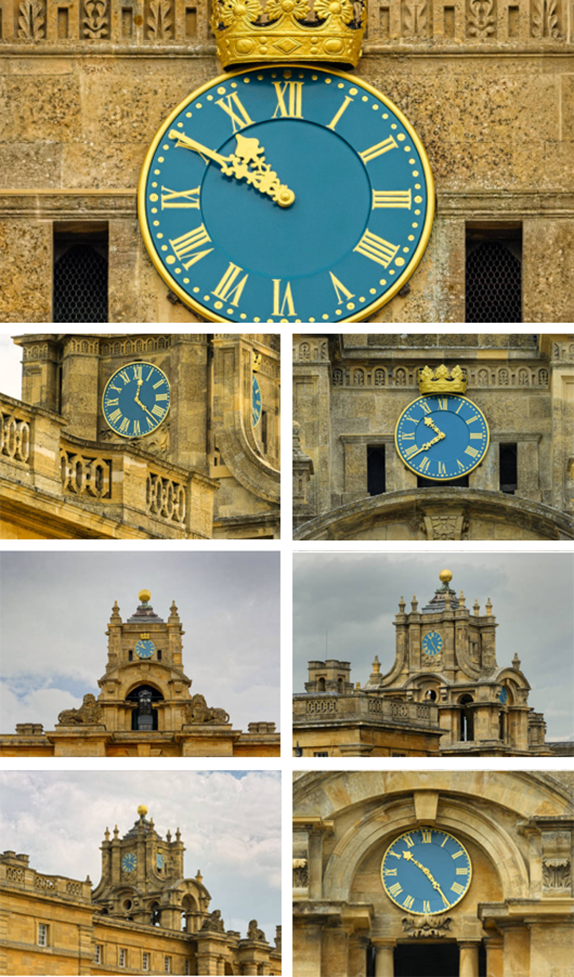 Find out more about clock restoration at www.timeassured.com