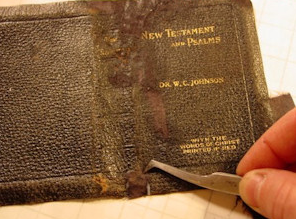 The next closing date for ChurchCare Grants for the conservation of books and manuscripts is Monday 22 May 2017 and applications will be considered from anglican churches in England.
Historical books and manuscripts, when in the care of the parish, are eligible for grant aid. Modern printed books cannot be considered.
Grant awards under this programme are usually up to £8,000. Details of previous awards can be found in ChurchCare's Annual Report.
Applications are made online and you will be asked to upload the following supporting documentation:
Conservation report prepared in accordance with ChurchCare guidelines
Latest Quinquennial Inspection report
Brief summary of any recommendations in the Quinquennial Inspection report that have been completed, are in progress or are about to be put in hand.
DAC and any other advice on the project
Letter from your Archdeacon in support of the project
Statement of most recent annual audited church accounts
If you have already obtained a conservation report, and you have the supporting documents listed above, you can apply via our online application form. Click on the link below to start your application.
If you would like to discuss the eligibility of your project contact This email address is being protected from spambots. You need JavaScript enabled to view it., Conservation Grants Administrator, on 020 7898 1872.
If you are interested in applying for a grant for a parochial library please contact: Janet Berry, Head of Conservation, on 020 7898 1889.
To find an expert on the conservation of books and manuscripts look in our directory here.