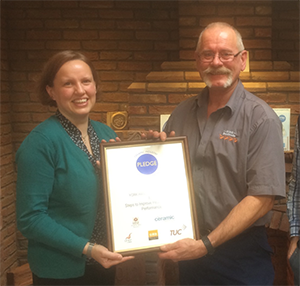 The York Handmade Brick Company, based at Alne, near Easingwold has won a prestigious award for its outstanding health and safety record.
The award, presented by the British Ceramic Confederation, recognises the crucial work that The York Handmade Brick Company has done in enhancing workplace safety over the years.
For the last two decades the family-run company has been fully committed to 'The Ceramic Industry Health and Safety Pledge', a bold industry wide promise to engage in a process of continuous improvement in health and safety.
The ambitious programme was a direct response by the industry to the then Government's challenge to industry as a whole to "revitalise" its health and safety performance. It is a three-way collaboration between the industry, the Health and Safety Executive (HSE) and trade unions.
Earlier this year the then chair of the Health and Safety Executive (HSE), Judith Hackitt CBE, described the pledge as a "first class initiative", and it has certainly seen results, with the ceramics industry reducing the number of injuries by an impressive 75% in 15 years.
Guy Armitage, the Managing Director of The York Handmade Brick Company said:"We treat health and safety very seriously. Working with heavy machinery, we are aware accidents can happen and the safety of our employees is our number one priority. This award underlines our commitment to creating a safe and secure environment."
He added: "The award is the result of a company-wide culture of prioritising safety. For instance every employee from the industrial hoover operator to themanagement has had a personal mask fitting to ensure they are wearing the correct protective gear. Machines are modern with strong safety records and much care has been taken in creating a clean and secure working environment that fits perfectly with the ethos of the company. "
For further information contact Robert Beaumont (This email address is being protected from spambots. You need JavaScript enabled to view it.) on 01423 323139 or 07710 127713.