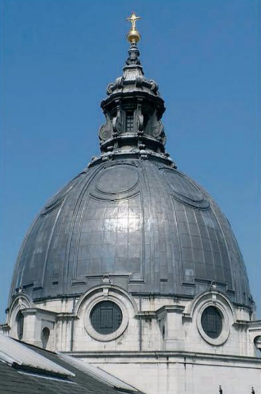 The front cover of our latest issue shows the roof of the London Oratory, the magnificent Roman Catholic Church in the Diocese of Westminster. The project to reroof the building was the winner of the Lead Contractors Association's prestigious Murdoch Award in 2013.
Martin UK Roofing Systems Ltd, who carried out the commission, used BS EN 12588 rolled lead from ALM, part of the 2iM Group, which again sponsored this year's Murdoch Awards to recognise the UK's very best in leadwork contracting. As a niche competition open only to specialist contractors, the awards highlight restorations on some of the country's most iconic buildings, and also some of the smaller, less fashionable, but no less detailed projects.
ALM's rolled lead sheet is now produced using material recovered from car batteries by another 2iM Group company, Envirowales. The group also includes Jamestown Metals Glasgow, Jamestown Resources Dublin and Royston Lead Barnsley.
The Murdoch Awards may never capture the public's imagination, but that's not why they were created. ALM spokesman Andrew Denham explained: "The Murdoch Awards aren't about financial gain or a superficial accolade based purely on the number of entrants, and they don't depend on the size of project or a building's status. Entries are scrutinised intensely by a panel of experts so that they can genuinely be called 'the best of the best'."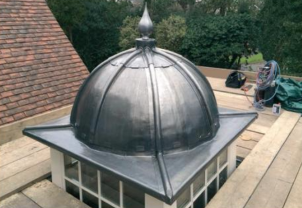 Durability and longevity have made lead a material which is still considered to have no effective alternative for use on historic buildings. Its use has been on an upward path despite the many widely publicised incidences of metal theft. Thankfully, the extent of that problem has been in decline for some time, while lead's widely-accepted sustainability – it has a BRE Green Guide rating of up to A+ – and low level of embodied energy continue to have a massive influence on its specification. Unlike zinc, which can be recycled but not reused for its original purpose as a roofing or façade system, lead can be reused time after time.
Scrap lead recovered from building projects is straightforward to recycle, but the process is more complex with other industries' products; none more so than car batteries. Lead accounts for around 58% of a battery and 80% of the lead produced worldwide is used in their production.
Traditionally, the tonnage of unrecoverable material sent to landfill had been a huge problem for local authorities and although disposal facilities are becoming more widespread, the economics of lead's extraction for recycling remain far less favourable.
So the recycling process used by Envirowales to produce 2iM Envirolead is one for which the term 'unique' is no exaggeration. It not only extracts lead from car batteries – between 8-11kg in each case – but also recovers all the other constituent parts: 96% in total. They include its polypropylene casing (5%), electrolyte fluid, mainly sulphuric acid (12%), metal solids (29%) and desulphurised paste (50%). That leaves only polyethylene, which accounts for 4%, and that is the focus of a research programme to find a viable means of reprocessing. For the rest, desulphurisation enables sodium sulphate salt to be extracted for use as a bulking agent in detergents, glass manufacture and even animal feeds under a FEMAS (Feed Materials Assurance Scheme).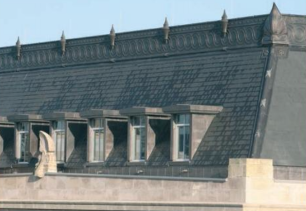 With each production batch using 300 batteries (roughly 4 tonnes), 300 tonnes of material is processed each day. The scale, therefore, is more than enough to cater for the large tonnage of BS EN 12588 rolled lead distributed by 2iM Group companies Associated Lead Mills and Jamestown Metals Ltd to their UK network of roofers and builders' merchants. Another group company, Royston Lead, specialises in the production of BBA-certified cast products such as anodes for the mining industry, ballast for offshore applications, air gun ammunition, acoustic barriers and window sash weights. The industries supplied both nationally and internationally include healthcare, nuclear, ordnance, chemical and shipbuilding – in addition to the manufacturers of solders, pewter, fusible alloys and car batteries. Lead's exceptional design life also extends its quantifiable sustainability even further.
The process is the only one of its type in the UK and it is important not least because some local authorities are still unable to take batteries at recycling centres. The future of truly sustainable low-carbon lead as a product at the heart of UK construction is therefore assured, and its place as a material for use in roofing, flashings, façade and heritage ornaments secure. Nearly twice as much material is now used in contemporary architecture and house building as conservation and restoration, though usage in both is increasing. Nonetheless, construction still accounts for less than 7% of worldwide consumption.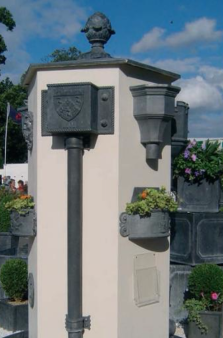 Lead's malleability enables it to be used for the most intricate detailing and creation of decorative ornamentation – something which is widely reflected in the Murdoch Award and Murdoch Sponsors' Award entries, numbers of which increased again this year.
BS EN 12588 provides a clearly-defined measure of quality, but does not differentiate between the sources of raw materials or the proportion of recycled material used in the production process. With the introduction of Envirolead as a branded product that can be specified in addition to the material's Code, for the first time an unprecedented chain of custody is available. It is one that does not rely on ore extraction and guarantees that the product chosen has the lowest possible environmental impact. Envirolead specification clauses are available through NBS Plus and BIM for ventilated cold and warm roof specifications.
A RIBA-approved CPD presentation has been produced to highlight the benefits of specifying lead manufactured exclusively from such a tightly-controlled resource. With an almost limitless number of batteries for re-use, the supply chain for lead in construction has seen a transition which seems set to be a permanent one and which benefits the environment. In terms of carbon dioxide emissions, its production using recycled material in a comparable roofing specification using Code 5 rolled lead sheet equates to less than 25% of that used to manufacture any of the commonly used single-ply materials. For wall cladding, a similar comparison shows the CO2 emissions to be less than half those incurred in the production of copper, coated aluminium or GRP.
Lead Sheet Association-approved premium roofing ancillary products are also available from 2iM distributors and the use of a complete package enables Envirolead to be supplied with a 50-year underwritten warranty.
For more information on Envirowales contact Steve Reynolds, 2iM national specifications manager, on 07885 463631 or email This email address is being protected from spambots. You need JavaScript enabled to view it..