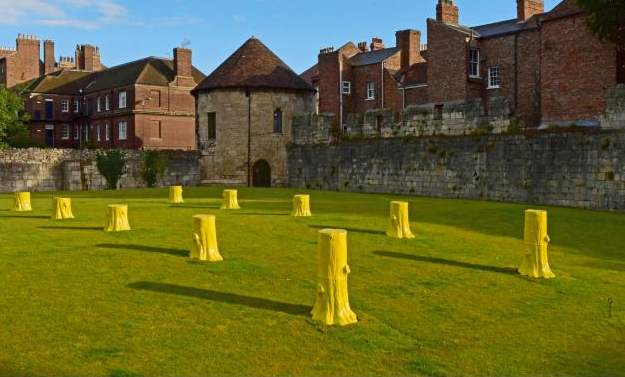 Architectural ceramics specialist, Darwen Terracotta and Faience, was chosen by Charles Holland of commissioned artists Ordinary Architecture to build the artwork Foundation Myths. This pioneering sculpture has been installed at the new Artists' Garden at the York Art Gallery. The work comprises ten, life-sized, ceramic tree stumps arranged geometrically in two rows to echo the foundations of a former building.
The Artists' Garden has considerable history. At one time an orchard, it was also once part of the St Mary's Abbey Precinct and was the location of the Great Hall of the Yorkshire Exhibition of 1879. The twin rows of five ceramic tree stumps are redolent of this arboreal and architectural history, but are finished in a bright yellow glaze, creating a strong contrast to their environment.
"As a team we have worked with Charles before, most notably on the House for Essex, a collaboration between Grayson Perry, the ceramic artist, and FAT Architects. This multi-coloured wedding-cake of a building uses colour and shape dramatically to inspire visitors. Charles knew that our team had the skills in clay working, glaze formulation and firing to turn his ideas into reality and the work has subsequently attracted much interest," explained Jon Wilson a Darwen Terracotta director.
Darwen Terracotta work with architects and conservation specialists throughout the UK and in the USA to restore terracotta and faience facings on heritage buildings. The company also works with architects and designers to apply the same skills to provide sculptural and coloured facings for many modern buildings and new builds.
Foundation Myths will remain on display at York Art Gallery until August 2017, there is more information at www.yorkartgallery.org.uk.