Ladycross Quarry, situated in the middle of Slaley Forest, is one of the few remaining quarries in England where the stone is won by hand. The layers are separated by very level bedding planes. This means that the stone can be worked by hammer and wedge as it is used throughout the ages, and no explosives are used.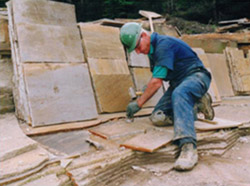 Although the origin of the name is uncertain, it is thought to have been the site of the crossroads between the ancient drove road from Edinburgh to York and the lead road from the Allen Valley to Blaydon. The word "Lady" being a corruption of the local pronunciation of 'lead'.
However, stone has been quarried here for at least 300 years. The nearby village and Abbey of Blanchland is known to have been slated with stone from Ladycross in 1740, and stone from here has been used in the construction and repair of Durham Cathedral, Morpeth Castle and Hexham Abbey. In fact there still exists an invoice for Ladycross stone to the value of £100-12s-6p for the supply of 80.5tons of grey slate for Ramshaw house in Corbridge in 1905.
Click here to find out more about Ladycross Quarry in our online directory