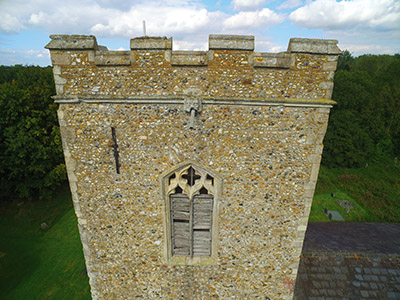 East Anglia is home to some of the most precious ancient churches in England – a good number of which date from the Saxon period. It is no surprise, therefore, that some of the most innovative methods for ensuring their continued good condition are to be found there.
One deployment of modern technology is the use of unmanned aerial vehicles (UAVs), or drones, to overfly sites in need of examination.
The use of such machines has proved revolutionary in carrying out surveys of areas in ancient buildings which had previously required extensive preparation, followed by expensive and in some cases hazardous operations. Indeed, in some churches there are parts of the building that had not hitherto been accessed at all for many years.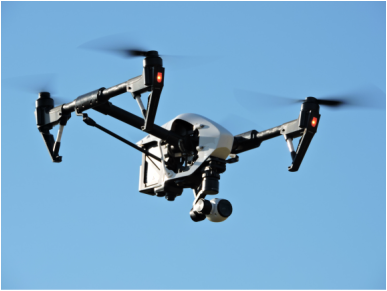 One of the leaders in the field of the use of UAVs in church surveys in East Anglia is Spatial Photography of Thursford in Norfolk. Equipped with the latest technology, the company's UAVs offer huge scope for fast, safe and efficient data collection.
From archaeological surveys to a close-up of a difficult area to access, a UAV can accomplish the work in a far safer way and a faster time whilst reducing costs and addressing health and safety issues. Videos and still images are recorded using high-resolution cameras attached to the UAV, providing clear, sharp images.
A highly-maneuverable UAV can quickly and safely access hard-to-reach areas for surveys of ancient buildings and church quinquennial surveys. Spatial Photography's quadcopters can get in close without the need for expensive scaffolding or cherry pickers and reduce the safety risks of working at height. In the case of church buildings, the surveying of roofs is a particular difficulty and a UAV can be deployed within minutes to inspect unseen areas.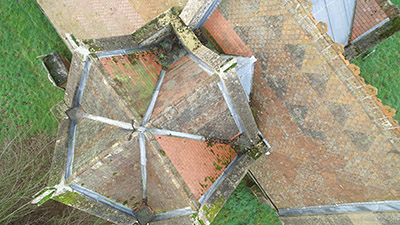 Debris filled gullies on a church roof
The resultant images can be in the form of video – at 4K, ultra HD or HD – or stills in 16 megapixel, raw or jpg format. By overlapping each photograph by 80%, a high-resolution photo mosaic can be produced in post processing. Further processing can produce a 3D format that allows the user to manipulate the mosaic to any angle and even fly around the image.
All the projects carried out by Spatial Photography involve a full risk assessment started during the planning phase and continued on site and through to the completion of the project. A detailed checklist is followed to reduce human risk factors in order to safeguard the property, equipment, personnel and environment.
Said director David McArthur: "The use of UAV's has revolutionised building inspections in terms of cost, speed and safety. However, the majority of people do not understand how to fly a UAV in a safe and responsible manner, or know the regulations set out by the Civil Aviation Authority (CAA). You should use a CAA-registered professional or get their advice before using one on your priceless building. If they are not licensed they will not be insured and you will not be covered by your own insurance policy."
The pilots employed by Spatial Photography have all completed and passed stringent courses in the safe operation of UAVs and are certified by the CAA. All work is carried out within CAA regulations at all times.
For further information visit www.spatialphotography.co.uk