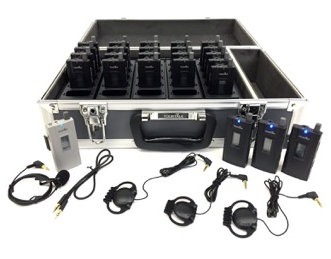 Tourtalk is a portable short-range wireless system used to transmit an audio message from a presenter to an audience. The presenter speaks into a radio microphone transmitter and the audience use lightweight receivers to hear the message. Tourtalk systems are used by places of worship and heritage sites around the UK and abroad.
As the system is completely portable it requires no installation and can be setup within minutes with no impact to the buildings aesthetics. As the receivers don't rely on line-of-sight transmission, the system can be used discreetly and cover large areas including balconies. Tourtalk systems are used for many applications including guided tours, hearing support and simultaneous interpretation.
Guided tours
The Tourtalk system is used to ensure a tour guide can be heard by their tour group, whether inside a Cathedral, or outdoors at a historical site. The guide can speak at a comfortable level into a lapel microphone connected to the transmitter. The visitors are each issued with a receiver and headphones. They can then adjust their own volume to hear the guide's voice. As each transmitter and receiver is supplied with a belt-clip and lanyard, the system can be used hands-free.
Not only does the Tourtalk system help to keep the group focused on what is being said, it reduces the strain on the guide's voice. The guide can also connect a smartphone to the transmitter to play a pre-recorded commentary about the sites history.
Hearing support
Tourtalk systems can be used to assist hard-of-hearing people who struggle to hear a message due to distance, background noise or poor acoustics.
To assist any members of the audience that are hard-of-hearing, an audio output from a sound system can feed a stationary transmitter. The hard-of-hearing person is then issued with a lightweight bodypack receiver with either a neck loop (to work in conjunction with their hearing aid on the 'T' program) or an earphone. The individual can then adjust their personal volume to a comfortable level.
These systems are ideal for venues that require a portable solution as they can be quickly and easily setup with a temporary sound system for each event.
Simultaneous Interpretation
Simultaneous interpretation is becoming more common for organisations due to the increase of international guests visiting heritage sites and multi-cultural places of worship.
The Tourtalk system can be set-up within minutes of arriving at a venue, and can accommodate up to twelve different interpreters (languages).
Interpreters can be used to enable members of the congregation to hear the preacher's message in their mother tongue. Each interpreter is issued with a bodypack transmitter and microphone, they then listen to the preacher and interpret what is said into their assigned language. The sensitive headband microphone allows the interpreter to whisper the message, so as not to strain their voice or disturb other people in the vicinity.
The members of the congregation who require interpretation are each issued with a bodypack receiver and earphone before the service. They then select the appropriate channel for their language and adjust their personal volume.
The Tourtalk system has forty channels (twelve of which can be used simultaneously) and a range of up to 120m. The system can be operated licence-free anywhere within Europe.
For more information please click here.