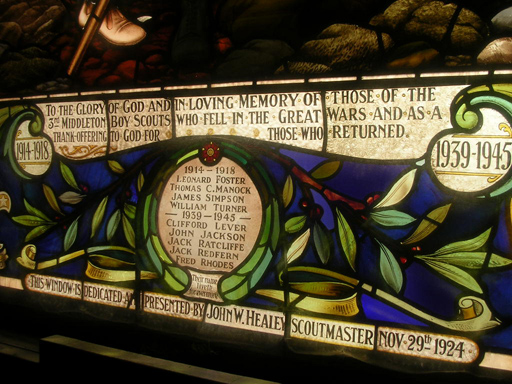 When the local scout hut in Middleton, Greater Mancester was being demolished, a new home for the scout window of 1924 was required. St Gabriel's, the local church, was chosen to be that home.
Cheshire Stained Glass removed the window from the hut and stored it until a final decision about its future had been made.
Their proposal to install the window into a back-lit casement within the church was accepted. A hardwood frame was designed and built to accommodate the window and a pine plinth was created to blend in with the panelling around the church.
The stained glass itself was cleaned, partially re-built and the broken artwork repaired, before being fitted into the frame.
Day-light strip lighting tubes provide fantastic light passing through the window.
For further information visit www.cheshirestainedglass.com