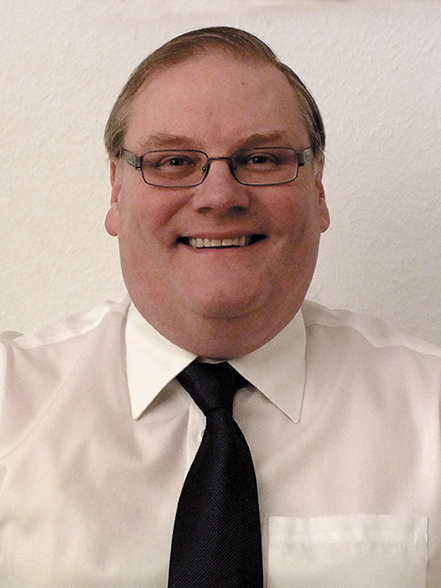 This was the key theme in Trevor Corser's introduction to the recent FTMRC statement. Trevor, managing director of JTC Roofing Contractors Ltd and at the time FTMRC chairman, said:
"Taking on the challenge of becoming FTMRC Chairman, a rapid realisation dawns (although I had always suspected it) that no matter how brilliant or dynamic the individual (I wouldn't claim to be either), to be really effective there is a need to work in partnership with others.
"Since our formation at the end of 2006 (yes I know only eight years – incredible isn't it?) we have achieved so much because we have a strong, innovative and forward thinking Council backed up by a very professional secretariat. Pooling and focusing those varied individual resources creates a dynamic and purposeful unit that is determined to see the FTMRC succeed.
"That success is epitomised by an organisation that has now enlisted 53 (and rising) specialist metal roofing installers supported by all the major metal manufacturers that supply the UK market, plus all the front rank stockists and distributors and the major providers of ancillary and support material.
"Collectively, these individual companies operating in partnership under the FTMRC banner provide this organisation with a status, authority and drive that is recognised throughout the roofing sector (partnering – means together we are stronger).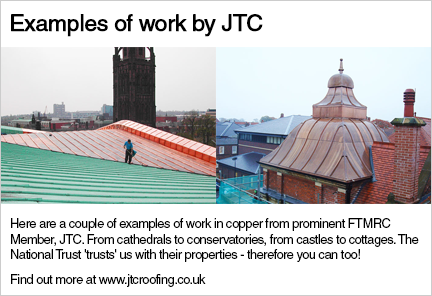 "And it doesn't stop there.
"We have worked closely with CITB to support the next generations of specialist metal roof contractors and in so doing have identified a number of individual projects which have received their specific funding support. This includes the fabulous Guide to Good Practice, the conversion of the LSA Roof Training centre to deliver hard metals training and the 2014 field research programme of on site inspections which is providing a goldmine of information on our sector in terms of potential skills shortages and training needs.
"All of this was delivered with CITB financial support, funding which wouldn't have been anywhere near as effective if we hadn't worked with them to provide focus and delivery.
"During the latest research we have also been able to gather vital information from the sharp end by way of face to face on site discussions with our members and associates (more partnering) and these discussions on technical issues as well as training will undoubtedly shape the future of the sector.
"We have also worked with the training providers and metal manufacturers to investigate and if possible enhance the training that is currently being delivered throughout the UK (look out for the on site supervision and management courses that we will be delivering during 2015)
"But as partnering works for us as an organisation, it most certainly works for all of our members and associates and this is the real key in taking the sector forward in terms of design and installation.
"In most cases the quality of the work illustrated in this directory (check out a pretty impressive range of photos from our members) started life in the imagination of the architect.
"However the visionaries responsible for the stunningly diverse construction skyline we enjoy all around us would nevertheless be totally impotent if it were not for the skilled practitioners (that turned their aesthetic vision from drawing board into real life, weatherproof reality) and the manufacturers' ever increasing variety of product, colour and design.
"The realisation of this vision doesn't happen by accident; it is the result of designer, manufacturer and contractor working together to explore the possible (and discount the impossible) in creating the best result for the client, both aesthetically and in long term practical performance.
"Without the architect, manufacturers and installer working together, metal roofing and cladding is just metal roofing and cladding – still workable, still functional and still providing long term value for money building protection.
"However with architect, manufacturer and installer working in partnership there is the added potential to create a thing of beauty, that will be a joy forever - well almost."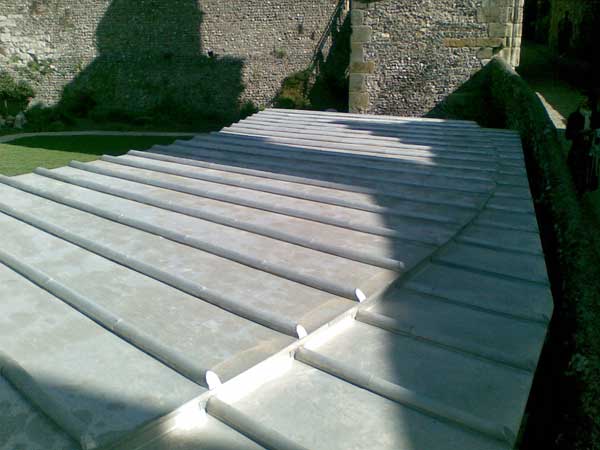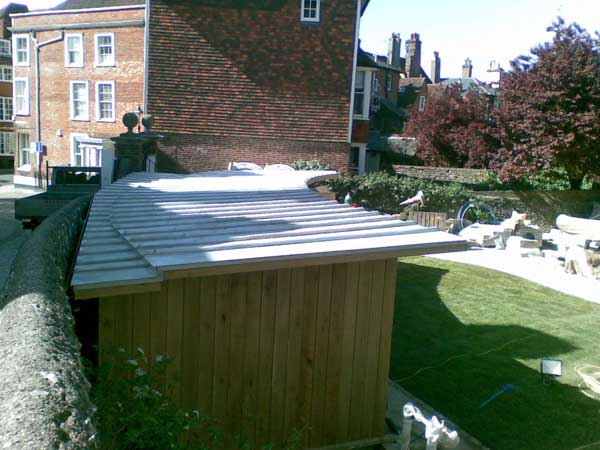 Lewes landmarks get new roofs from hard metal experts
Canterbury-based Metal Roof Ltd are specialists in copper, stainless steel and zinc roofing and cladding. Two of their projects have involved properties in Lewes in Sussex.

A visitors' centre has been built in the grounds of Lewes Castle (left) and the roof was required to have the appearance of a traditional 'batten roll' lead roof. Terne-coated stainless steel was used so as to achieve the appearance of lead but without the harmful environmental effects.

The dramatically modern extension to a traditional church in the town (right) incorporates sweeping pitches with concave curves. VM Anthra zinc is used – it is nearly black in colour. The project has won the Friends of Lewes Best Building award and a 'highly commended certificate' for the Sussex Heritage Trust Awards.
For further examples of the company's work visit www.metalroof.ltd.uk.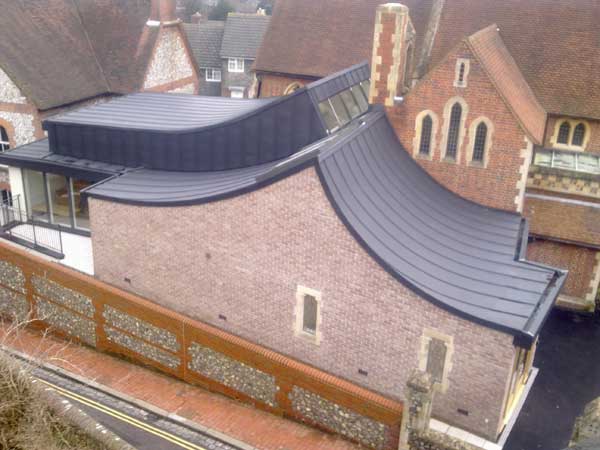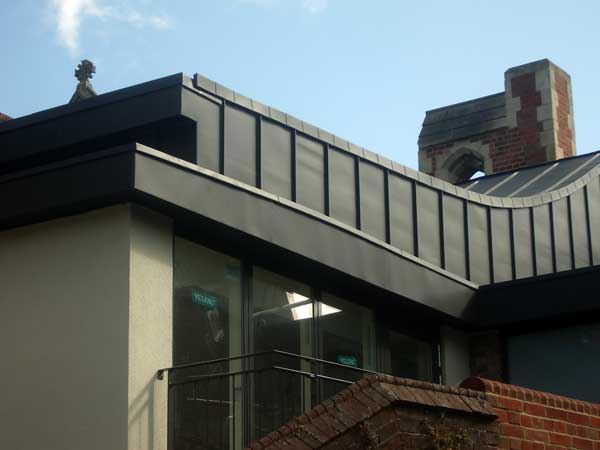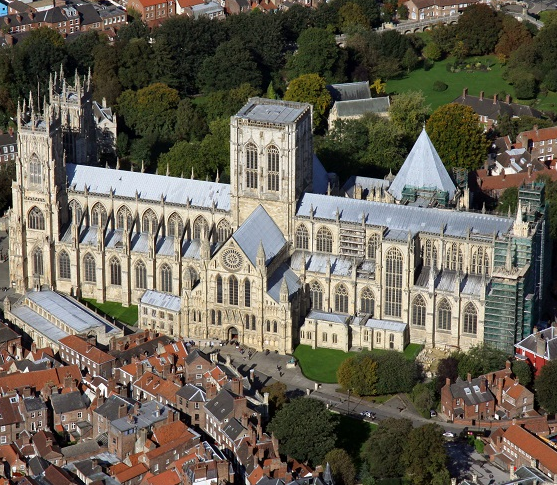 Roofing restorations at York Minster follow traditional design
York Minster is Northern Europe's second largest gothic cathedral and has a long and varied history dating back almost 1500 years.

Conservation and restoration is an on-going commitment and those in charge are dedicated to keeping the traditional architecture and heritage. As a result, they utilise a combination of cutting-edge science and ancient craftsmanship when undertaking any remedial restorative work.

They recently called on the expertise and specialist knowledge of the professional roofing contractors at Leicester-based JTC Roofing, who were extremely proud to undertake the roofing restoration work.
Click here to read the full story.
FTMRC UK Guide to Good Practice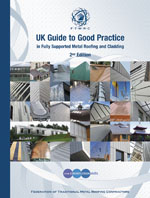 Members of the Federation of Traditional Metal Roofing Contractors stick strictly to their UK Guide to Good Practice in Fully Supported Metal Roofing and Cladding, which sets the highest possible standards for metal roofing and cladding.
Containing 96 pages of technical information, including over 100 detailed drawings, plus tables, charts and photographs, the publication of this second edition fulfils a major commitment made by the officers of the FTMRC to produce a single technical reference document that covered the design and installation recommendations for all hard metals used in traditional UK roofing and cladding.
According to the FTMRC: "The Guide addresses a long standing and in our view critical gap in the information provided to designers, specifiers and installers of aluminium, copper, galvanised and stainless steel and zinc.


"Most significantly, the Guide to Good Practice will provide an essential training aid to those just starting out in this sector of construction, an area which is again part of the quality standards commitment of the FTMRC.

"Formed in 2006, the Federation has grown rapidly and has a membership core of specialist contractors who between them cover the UK, with new members joining all the time. We are supported by manufacturing and distribution Associate Members, including all the major European manufacturers of the metals used in traditional roofing and cladding whose input has been essential in drawing up the Guide to Good Practice.

"Together we have developed and established a co-ordinated and progressive training programme, delivered in partnership with the Lead Sheet Association (LSA) at their customised roof training facility in Kent. We have worked closely with the LSA and our Manufacturing Associates, notably VM Zinc and KME, have developed the training staff to the point where national qualifications can be offered in hard metals as part of the NVQ/QCF framework.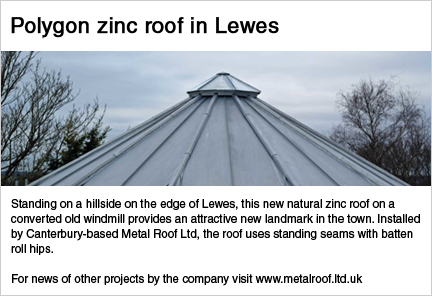 "Throughout these endeavours the FTMRC has been encouraged and supported by ConstructionSkills and the funding they have provided has enabled us to achieve many of our objectives, including the Guide to Good Practice, far more quickly than would otherwise have been possible.

"This commitment from ConstructionSkills has been welcomed as recognition of the progress achieved by the FTMRC as an organisation dedicated to quality standards and which has become the voice of the specialist contractor in this sector.

"This recognition is also evident in other areas, with an increasing number of manufacturers offering extended warranties on their products when installed by a Federation members. There is a justified confidence in FTMRC standards of workmanship, which is regularly verified through a vetting programme that requires members to provide on-site rooftop access to their work for inspectors nominated by the FTMRC Council."

FTMRC technical seminars are well supported by both members and associates and the annual Directory is distributed free of charge to 16,000 architects and surveyors. The directory, together with the FTMRC web site at www.ftmrc.co.uk, contains all members details and a gallery of photographs of their workmanship.

• For more information about the Federation of Traditional Metal Roofing Contractors contact the Secretary at Centurion House, 36 London Road, East Grinstead, West Sussex, RH19 1AB; tel 01342 301627; fax 01342 303200; email info@ftmrc.co.uk.
Copies of the UK Guide to Good Practice in Fully Supported Metal Roofing and Cladding are available at £45 + £5 P&P (hardback) and £40 +£5 P&P (laminated flexible cover) from the FTMRC at the address above.









For a selection of FTMRC members, see our classified directory here.