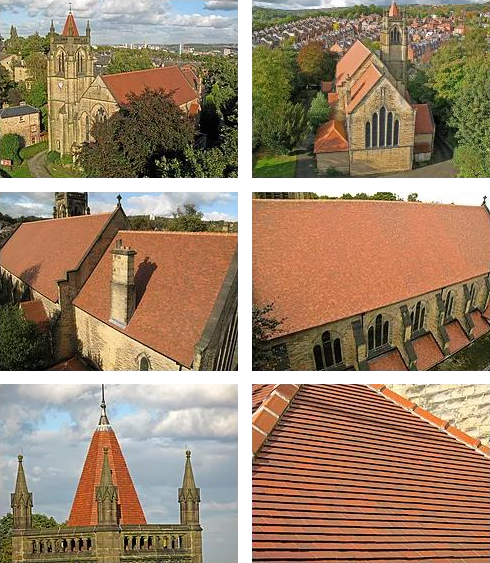 What it lacks in height, the spire at St Augustine's Church in the Endcliffe area of Sheffield certainly makes up for in distinction.
Clad in an unusual red tile, the octagonal 35 metre spire – or spirelette as it is officially called – makes a curious landmark on the city skyline, drawing the eye to what lies beneath and announcing its presence among the plethora of grey roofs and chimney pots nearby.
Our wealth of experience in the ecclesiastical sector made Martin-Brooks the perfect choice for the Church of England's refurbishment of St Augustine's. The parish church is popular among the estimated 7,500 residents and visiting students who frequent the area and its preservation for future generations is essential.
We worked closely with Sheffield architects, Elden Minns, to strip back the old finish, repair existing timbers, apply a preservative treatment and re-clad the roof and spirlette using 56,000 new clay tiles.
To retain the church's distinctive appearance, we opted for plain clay tiles in a light mixed brindle colour, which were painstakingly applied in the final stages of the five month project. We also brought in specialist contractors to re-point sections of stonework that required refurbishment.
Materials: Lafarge Redland Rosemary plain clay tiles in Light Mixed Brindled
Client: Church of England
For further information visit www.martin-brooks.co.uk